Pay for piracy? uTorrent's latest plan is banking on it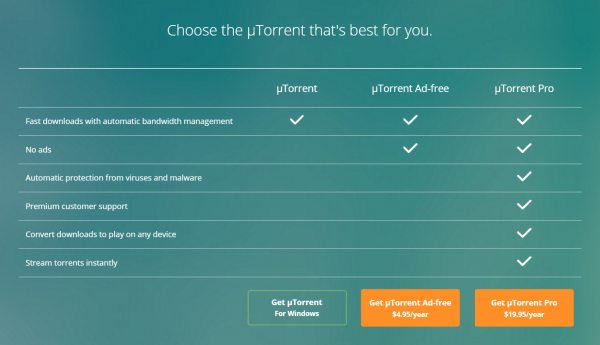 Believe it or not, people download movies and music illegally. This may not be earth-shattering news to anyone, as it has been going on for a long time, most famously with things like Napster and The Pirate Bay. These days it has become more sophisticated and turned into a real business for the torrent sites.
Now the popular service uTorrent is instituting a new pay plan. No, you don't have to pay, but the service hopes to give those who do a better experience.
The latest selling point being used by the service is a new ad-free version that it hopes will draw in more users and also the revenue that keeps every site alive.
"This gives users the option of avoiding any and all ads in the client. It's exciting to us because it gives users the ability to avoid advertising at 25 percent of the cost that it used to be -- about 5 dollars a year instead of 20 dollars", the company states.
To be precise, it's $4.95 per year, which isn't a bad price, but there are some considerations here. The biggest is, do you want to hand over your credit card or PayPal information to uTorrent? That's something that should be given careful thought.