Copy Plain Text strips the formatting from copied text (Firefox)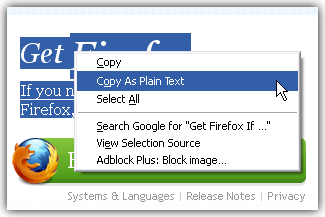 You're browsing the web, find some interesting text, copy and paste it elsewhere… And then realize it's got all the original formatting, now entirely unnecessary. And maybe an unwanted image, too.
Copy Plain Text is a Firefox add-on which supports copying plain text only, and adds some handy text processing extras as well.
It's all very straightforward. Select some formatted text, right-click, and select the new "Copy As Plain Text" option. Formatting and graphics will be stripped out, leaving only the text.
If you need the formatting, right-click and choose "Copy", as before.
The add-on's Options dialog allows further reformatting, including trimming surplus lines and spaces (handy if your initial selection wasn't too precise).
There's a useful option to reformat special characters, like replacing the copyright symbol with "c", and the trademark symbol with "TM".
You're also able to assign a custom keyboard shortcut for your copy action.
It may be small and simple, but if you're regularly reformatting pasted text then Copy Plain Text could save you a lot of time and hassle. Check it out.