Windows clone ReactOS hits version 0.4.0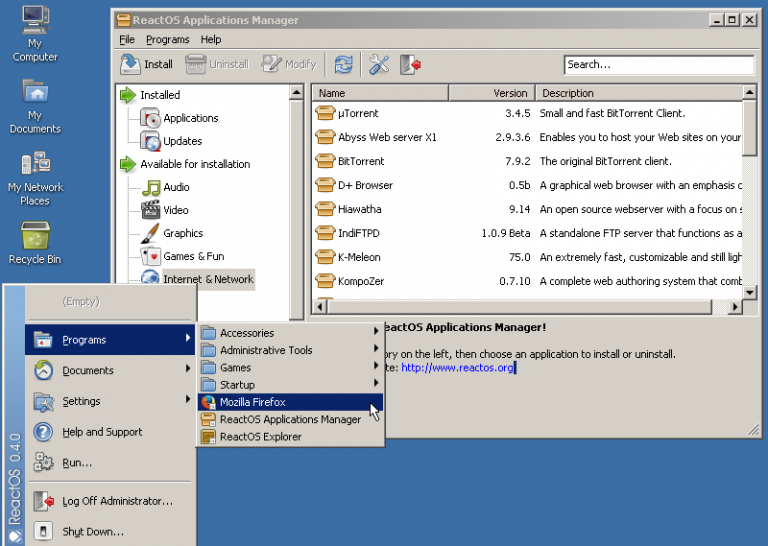 It's been ten long years since the last major release, but open source Windows clone ReactOS is still very much alive, and the latest release shows just what's been achieved since 2006.
There's finally support for NTFS read and ext2 read/ write, out of the box.
Hardware improvements include SATA support, a working USB stack, and -- gasp -- sound.
Networking has also come a long way, with wireless networking and SSL support.
A new shell adds a lot of functionality, and should be much more reliable.
There's also some 3D graphic support, the ability to properly load graphics drivers, an updated memory manager, a much more compatible Registry implementation, and -- maybe most useful of all -- an NT Virtual DOS Machine (NTVDM) for running 16-bit DOS applications, including old games.
Does it work? Well, we grabbed an installation CD, and had ReactOS running under VirtualBox within minutes, no hassles at all.
If you've not tried ReactOS before, the Applications Manager is a major plus, enabling a host of popular packages to be downloaded and installed immediately: Firefox, Opera, OpenOffice, GIMP, VLC Media Player, IrfanView, various torrent clients, VNC tools and a whole lot more.
We double-clicked Firefox and watched as it was downloaded and automatically installed: neat.
But then, when we started using Firefox, problems quickly appeared, with the browser window not always rendering correctly. Maybe it was something specific to us, our settings, graphics driver, or VirtualBox, but most people won't want to spend an age trying to find out.
Overall, ReactOS is still very much an alpha release, and not for most users. If you just want a free operating system that's easy to use, try Linux Mint. The interface is familiar and with Wine installed, you'll be able to run quite a few Windows applications.
But if you're a Windows geek, understand the technical challenges here, maybe have an ancient laptop you'd like to revive or some legacy programs to revisit, ReactOS offers plenty to explore.