NetSpot 1.0 Wi-Fi analyzer and troubleshooting tool launches on Windows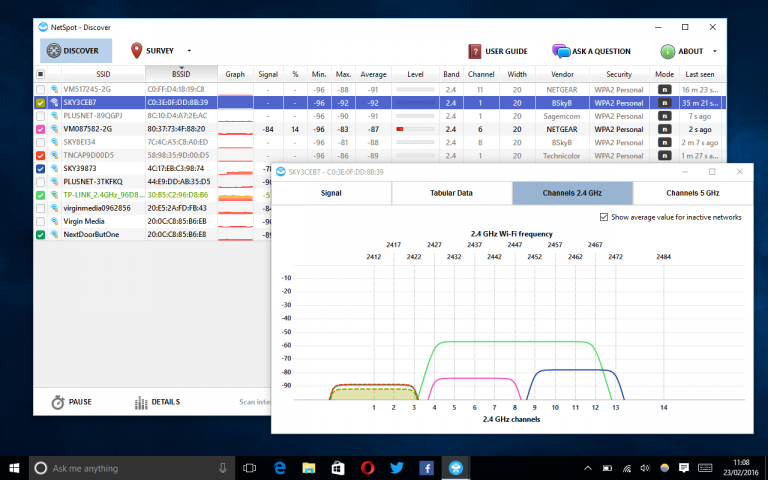 Etwok LLC has launched NetSpot 1.0 on the Windows platform, joining the existing Mac tool. The initial release of the Windows version has been made free for both personal and commercial use, and contains a subset of the features found in the Mac build.
The tool is designed to help troubleshoot problematic Wi-Fi network connections by revealing overall reception strength, and includes a mapping tool to help identify 'dead' zones where reception is poor or non-existent.
NetSpot for Windows, which requires a computer with Wi-Fi adapter, is basically split into two sections: Discover, which provides a standard list of all visible and detected Wi-Fi networks, and Survey, where users can create maps of their immediate vicinity for a more detailed view of signal strength in specific areas.
The Discover section provides detailed information about all detected networks, including both SSID and BSSID, signal strength, band (2.4GHz or 5GHz), channel, router manufacturer, security level and Wi-Fi mode.
One or more networks can be selected, then by clicking Details, information is revealed concerning signal strength (in signal graph and tabular data form) as well as strength and frequency of both 2.4GHz and 5GHz channels.
Switch to the Survey tab and users are able to create survey projects using interactive 'heatmaps' to visualize the user's Wi-Fi connection over a specific area using a heatmap. Users can restrict their survey to one Wi-Fi network or include multiple networks as required.
Unlike the Mac version, which comes in free and paid-for versions, NetSpot for Windows launches as a completely free product for both personal and commercial use. There are no limitations on the number of points on a heatmap, and the app supports signal level visualization.
NetSpot 1.0 is available as a freeware download for PCs running Windows 7 or later, and works with any 802.11 network. Also available is NetSpot 2.4 for Macs running OS X 10.6.8 or later. The Mac release offers a free, non-commercial version that's accompanied by more fully featured Pro and Enterprise level editions.