View all your Chrome, Firefox and IE addons with NirSoft's BrowserAddonsView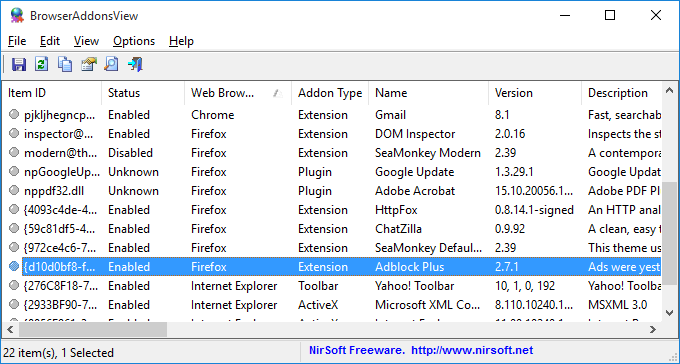 Freeware developer NirSoft has released BrowserAddonsView, a free tool which detects and displays all your installed Chrome, Firefox and IE extensions, in all user profile folders.
Every installed addon is displayed in the usual NirSoft table, with details including item ID, status (enabled/ disabled), browser, addon type (extension, plugin, browser helper, ActiveX, more), name, version, description, title and creator.
Disabled addons may be hidden to help your focus on everything else, and you can sort the table by specific fields to group common items together.
There are no real management tools here. You can't remove an addon, disable it, or even open the host browser directly from BrowserAddonsView. The closest the program gets are some right-click options to open the relevant add-on or user profile folder, for further exploration.
Despite that, the program could save you some time if you just want to browse installed addons for anything suspect.
It's also possible to save the list as a text file, enabling you to compare individual browser setups, or see how your installed plugins have changed over time.
BrowserAddonsView is a freeware tool for Windows XP and later.