Polarr Photo Editor gets a Windows 7+ desktop release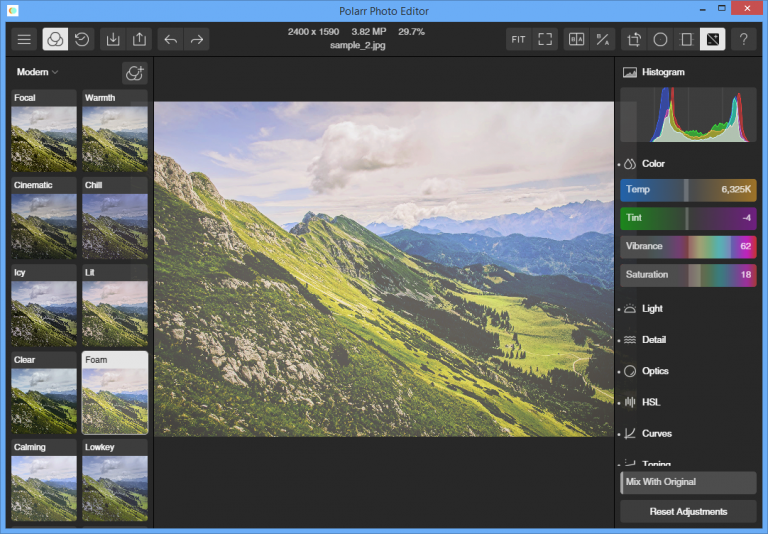 Popular mobile and browser-based image editor Polarr Photo Editor is now available in a desktop edition for Windows 7 and later.
A Free build offers only global adjustments (no selection tools), and drops custom filters and batch export.
A $19.99 Pro edition removes those restrictions, and bundles nine "premium filter packs", too.
We tried the Free version, and found 100+ filters -- with thumbnails -- to apply new color and lighting settings with a click.
A right-hand sidebar offers panels to adjust color, exposure, brightness, contrast, sharpness, highlights, shadows and more.
There are plenty of more advanced surprises. Expanding the "Optics" panel doesn't just give you lens distortion and fringing correction, but also provides an excellent Vignette tool with a host of tweaks and configuration options.
A complete Curves correction tool enables fine-tuning of your image colors and lighting.
Cropping has support for many common aspect ratios. Just select 7:5 or whatever you're using, then resize, click and drag the box around to select an image area.
The Straighten tool might justify the download all on its own. Simply click and drag to rotate the image in the preview window, while an overlaid grid helps you ensure it's lined up correctly.
The Export option saves your finished work as a PNG or JPG, optionally with a custom image watermark.
If you're baffled by any of this, there are various video and other tutorials to help. (We tend to prefer text, but the videos are at least short, giving you the key information you need in less than a minute.)
Polarr Photo Editor 1.0 is now available for Windows 7 and later.