Samsung Portable SSD T3 finally here -- up to 2TB capacity and USB Type-C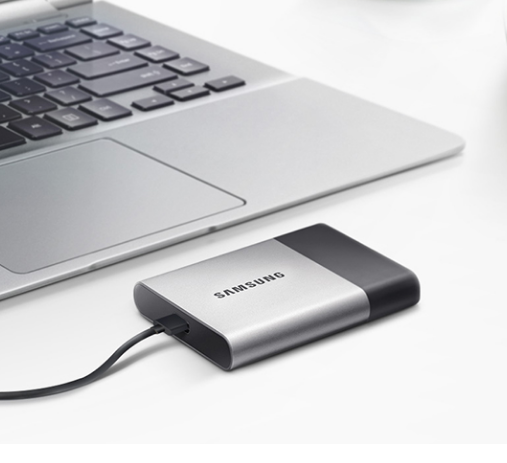 While some people decry the use of cloud storage as unsafe, I love it. All of my important files get saved to Dropbox, so they are forever safe. With that said, I'm no dummy -- redundancy is key. I regularly mirror my online storage to a portable USB hard drive just in case. This is important for backup purposes, but it also helps me retain some control over my data.
Portable hard drives are great, as they can be connected to both desktops and laptops. Unfortunately, many of them are bulky and utilize mechanical HDDs, making them potentially slow, hot, or vulnerable to bumps and jitters. When Samsung introduced its Portable SSD T3 at CES 2016, I knew I wanted one to store my files. Today, this beautiful feat of engineering and design becomes available to consumers.
'The Samsung Portable SSD T3 with vertical NAND (V-NAND) technology enables fast and convenient external storage and transfer of large files across devices. With the T3, users can send content to and from Windows, Mac OS, & Android devices with ease and reliability. Enabling them to access their high quality content on Android smartphones, tablets, and compatible Smart TVs via USB port. The drive is ideal for consumers, content creators, business and IT professionals looking to store and access up to 2TB of data with the peace of mind that their data will be protected across their devices", Samsung.
Andrew Sivori, vice president of Consumer IT Marketing at Samsung Electronics America explains, "today's consumers and business professionals are increasingly relying on external storage, seeking faster data transfers and larger capacities. The Samsung Portable SSD T3 raises the bar for external storage, safely and securely packing up to two terabytes of data into a robust package that fits in the palm of your hand".
Samsung shares the following specifications and pricing.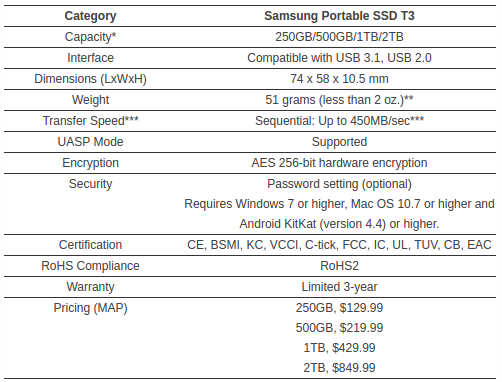 Clearly, at $849, the 2TB model is out of reach for many consumers. With that said, the 250GB variant in particular is rather affordable. Ultimately it will come down to your storage needs, how much you can afford to spend and how important your files are.
If speed isn't a factor an old-fashioned HDD might be the most cost effective option for you. If you treasure your files and need speed -- photographers or video editors -- the premium for the beautiful and fast Samsung Portable SSD T3 could be totally worth it. Keep in mind, however, this is USB 3.1 gen 1 and not gen 2, so it has USB 3.0 speeds -- faster drives are on the horizon.
Will you buy it? tell me in the comments.