Generate soothing forest sounds on your desktop with Aura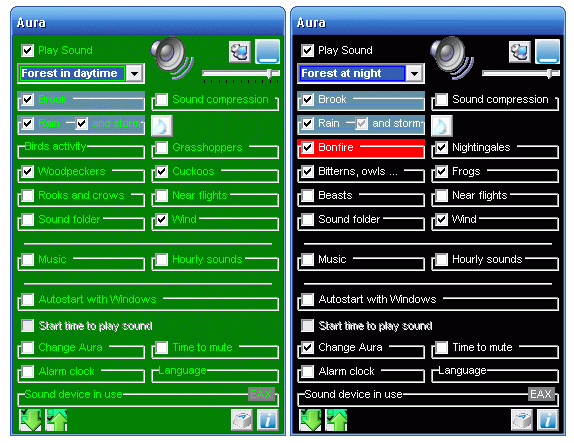 Aura is an ambient sound generator for Windows which combines soothing forest sounds to create a comfortable, relaxed working atmosphere.
Launch the program and it immediately starts playing its samples in a random pattern: a babbling brook, the wind in the trees, woodpeckers, cuckoos, rooks, crows and more.
If you're just looking for some gentle background noise then this can be a very effective technique, as you get plenty of variation, but it's never as distracting as music or TV.
Aura also offers plenty of ways to configure and customise its soundscapes.You can enable or disable each sound type, switch between "Forest in daytime" and "Forest at nighttime" modes for a different feel (nighttime has a bonfire and owls, for instance), add custom sound samples of your own, tweak the volume, and more.
You won't want any of this to get in the way of your real work, so it's good to see that Aura can be disabled very quickly. Just left-click its system tray icon, or -- once you've set it up -- use a hotkey and the sounds will be muted immediately.
There are also assorted automation features, including an option to use Aura's soundscapes as a gentle alarm clock.
The interface is occasionally quirky, and figuring out how everything works might take a little longer than you expect, but it's fun to explore and overall this is an appealing and very configurable tool.
Aura is a freeware application for Windows XP and later.