Xiaomi's new Mi Powerbank Pro is a 10,000 mAh external battery with USB Type-C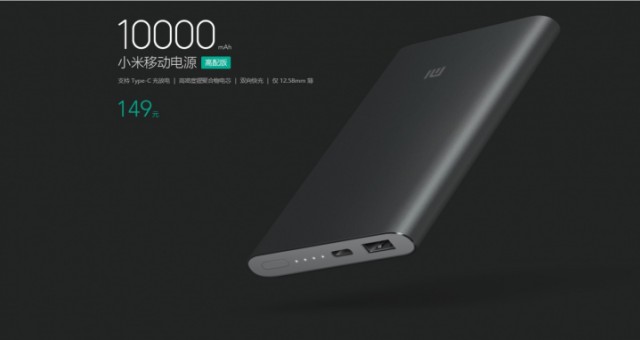 USB Type-C is slowly starting to gain traction in the smartphone market, as more handsets are being introduced with this wonderful new connector. Last month, we saw two new flagships -- LG's G5 and Xiaomi's Mi 5 -- unveiled with USB Type-C. But, for consumers, having it on a new smartphone may actually be an issue.
An external battery, for instance, is generally charged via microUSB, which means that, when it runs out of juice, you will not be able to use the USB Type-C cable, that is used to charge your device, to also charge the external battery. This can make having a smartphone with the new connector feel like a drag, but Xiaomi has decided to (also) offer a USB Type-C external battery so you can have a great experience.
Called Mi Powerbank Pro, it has a small footprint -- 128.6 x 75 x 12.6 mm -- but packs a 10,000 mAh (39.19 Wh) battery inside. Xiaomi even says that you can charge the new MacBook with it, which is made possible by the higher power output supported by USB Type-C.
Xiaomi also says that Mi Powerbank Pro can automatically detect the type of device it is charging, so it can unlock the full 18 W output when it is supported and use a lower wattage with more sensitive devices. It is claimed to fully charge a Mi Note Pro phablet in one hour and 50 minutes, as opposed to two hours and 30 minutes with a "standard" Powerbank.
It can fully charge an iPhone 6 four times -- or, if you have an iPad mini, it can charge it fully once and then to 50 percent with the remaining capacity. It is not large enough to fully charge a new MacBook, however, as Apple's ultrabook has a 39.7 Wh battery -- but it comes pretty darn close to it.
The best part about Mi Powerbank Pro is that it costs just $22, which makes it very affordable. For a couple of bucks, you can add an original Xiaomi USB Type-C cable, if you do not already have one. Check with your favorite importer soon for availability.