Microsoft 'Project Rigel' delivers Skype Meeting without Surface Hub -- Logitech is on board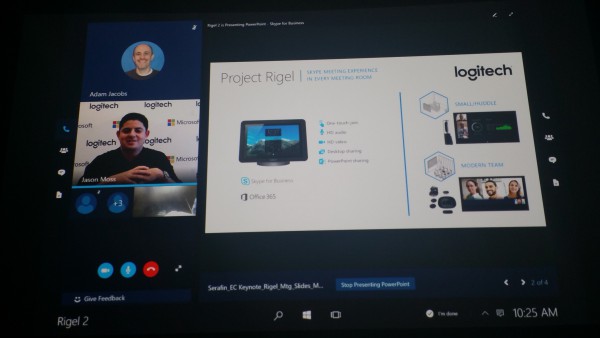 Video conferencing and remote collaboration are hugely important for modern businesses. As more and more employees choose to work from home or at off-site locations, it is imperative that they can interface in a meaningful way. Conference calls and email just won't cut it.
While Microsoft's forthcoming Surface Hub looks great, let's be honest -- it will be expensive and could be a hard sell to company decision makers. Small businesses in particular could be priced-out of that hardware. Today, Microsoft announces Project Rigel -- a way to deliver a similar Skype Meeting-based experience, as shown on Surface Hub, but without the super-expensive hardware.
"Project Rigel will bring a Skype Meeting experience pioneered on Microsoft Surface Hub to nearly any meeting room with a display or projector. It will use Windows 10 devices for center-of-room touch control and Skype for Business online meeting technology to easily connect remote users. Hardware partners including Polycom and Logitech will certify elements of their portfolios for use with Project Rigel systems, including the Polycom RealPresence Trio and CX5100, and Logitech ConferenceCam Connect, ConferenceCam GROUP and PTZ Pro Camera. Logitech also plans to deliver a purpose-built smart dock for Project Rigel to seamlessly connect the system elements in a meeting room, while Polycom plans to deliver a portfolio of complete Project Rigel systems", says Zig Serafin, corporate vice president on the Skype Business Services team.
Speaking of Microsoft and Project Rigel, Logitech explains, "this relationship combines the familiarity and usability of the Skype Meeting experience with Logitech's industry leading small- to medium- business hardware solutions. The Logitech ConferenceCam lineup complements the initiative by offering both razor sharp video and crystal clear audio at a price point so affordable, any business can transform its conference rooms into video collaboration spaces. By offering a range of brilliantly designed collaboration tools that are Certified for Skype for Business, Logitech continues to deliver products that connect people to the digital experiences they care about".
Who knows if Surface Hub will ever be embraced by businesses, but one thing is for sure -- Skype and Windows 10 are proven products. Both of those aforementioned products are the backbone of Project Rigel. With quality hardware vendors like Logitech (which is building a Rigel smart dock) jumping on board, businesses would be wise to take notice.
Do you think Project Rigel will see success? Tell me in the comments.