Razer unveils faster, more affordable Blade gaming laptop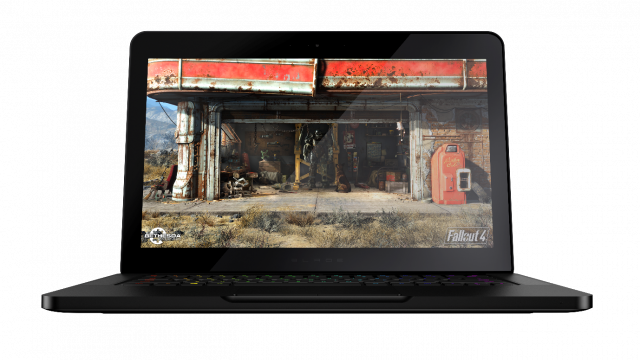 Razer has announced the new Blade gaming laptop, which features improved specs and a lower price compared to the previous generation. The device will ship in April, with pre-orders starting today at the company's online store.
The new Blade ships with a sixth-generation quad-core Intel Core i7 processor, Nvidia GeForce GTX 970M graphics with 6 GB of VRAM, 16 GB of RAM, 256 GB or 512 GB of PCIe SSD storage, Wi-Fi 802.11 ac, and a 14-inch IGZO touch-display with a resolution of 3,200 by 1,800, as the main highlights.
"We've improved nearly every aspect of the 14-inch laptop, from CPU and GPU performance to system memory and port selection. Chroma technology unlocks an unprecedented, immersive experience on a gaming laptop", says Razer's co-founder and CEO Min-Liang Tan. "We are getting much more aggressive as far as price point, but that hasn't come at a cost to the performance or design of the Razer Blade".
There will be two new Blade gaming laptops, one with a 256 GB SSD and the other with 512 GB of storage. The former model costs $1,999, while for the latter customers will have to spend $2,199. High-end hardware does not come cheap, especially when it is offered in such a portable package.
The laptop measures 13.6 x 9.3 x 0.7 in (345 x 235 x 17.9 mm) and weighs 4.25 lbs (1.93 kg). For comparison, a 15.4-inch MacBook Pro with Retina display has roughly the same size and weight, but it offers far less impressive hardware specifications considering the cost -- it also starts at $1,999, but the dedicated graphics option is only available in the $2,499 model.
On top of what I already mentioned, the new Blade also features a programmable and illuminated keyboard -- with RGB backlight, Thunderbolt 3 (USB-C) port, three USB 3.0 ports, HDMI 1.4b port, and a built-in 70Wh battery. The device has a "CNC-milled aircraft grade aluminum chassis" to house its components. It ships with Windows 10 64-bit.
Razer has also introduced a software development kit to allow developers to integrate Chrome lighting effects in their games, a feature which it says is already available in Call of Duty, Dota 2, Overwatch, and Blade and Soul.