Windows 10 Insider Preview Redstone Build 14291 delivers extensions to Microsoft Edge and other new features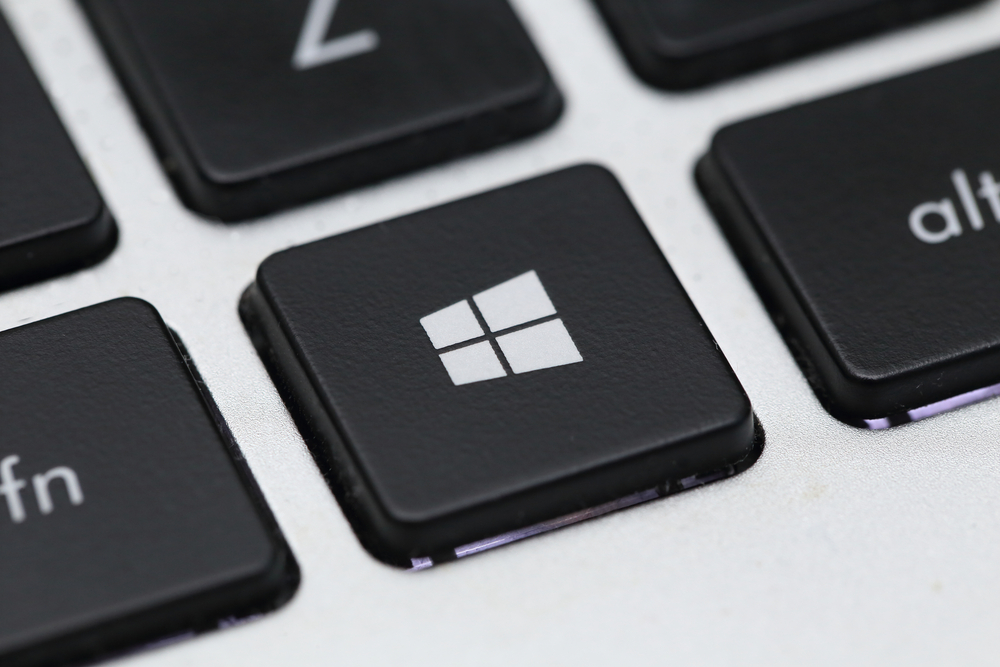 Microsoft is having a very busy Thursday. As well as beginning the long-awaited rollout of Windows 10 Mobile, the software giant has also pushed the button on a new PC build for Insiders on the Fast ring.
Fast ring updates sometimes offer new features, but other times it's just tweaks to the core and bug fixes. Windows 10 Insider Build 14291 is one the more noteworthy updates, finally delivering the long awaited extensions in Microsoft Edge, as well as pinned tabs and other Edge enhancements. There's also an updated Maps app, and a wealth of other changes, including the introduction of a new Feedback Hub.
Extension support is of course the biggie and finally gives Microsoft Edge a chance to compete with the likes of Firefox and Chrome. To try out an extension, just click on the ellipses (…) at the top right and then click Extensions. In the Extensions pane click Get extensions.
This is obviously a new feature, so there aren't many add-ons available at the moment, but you can try out Mouse Gestures, Microsoft Translator (automatically translates pages in over 50 different languages) and an early version of Reddit Enhancement Suite.
More extensions are on the way, including AdBlock, Adblock Plus, Amazon, LastPass, Evernote.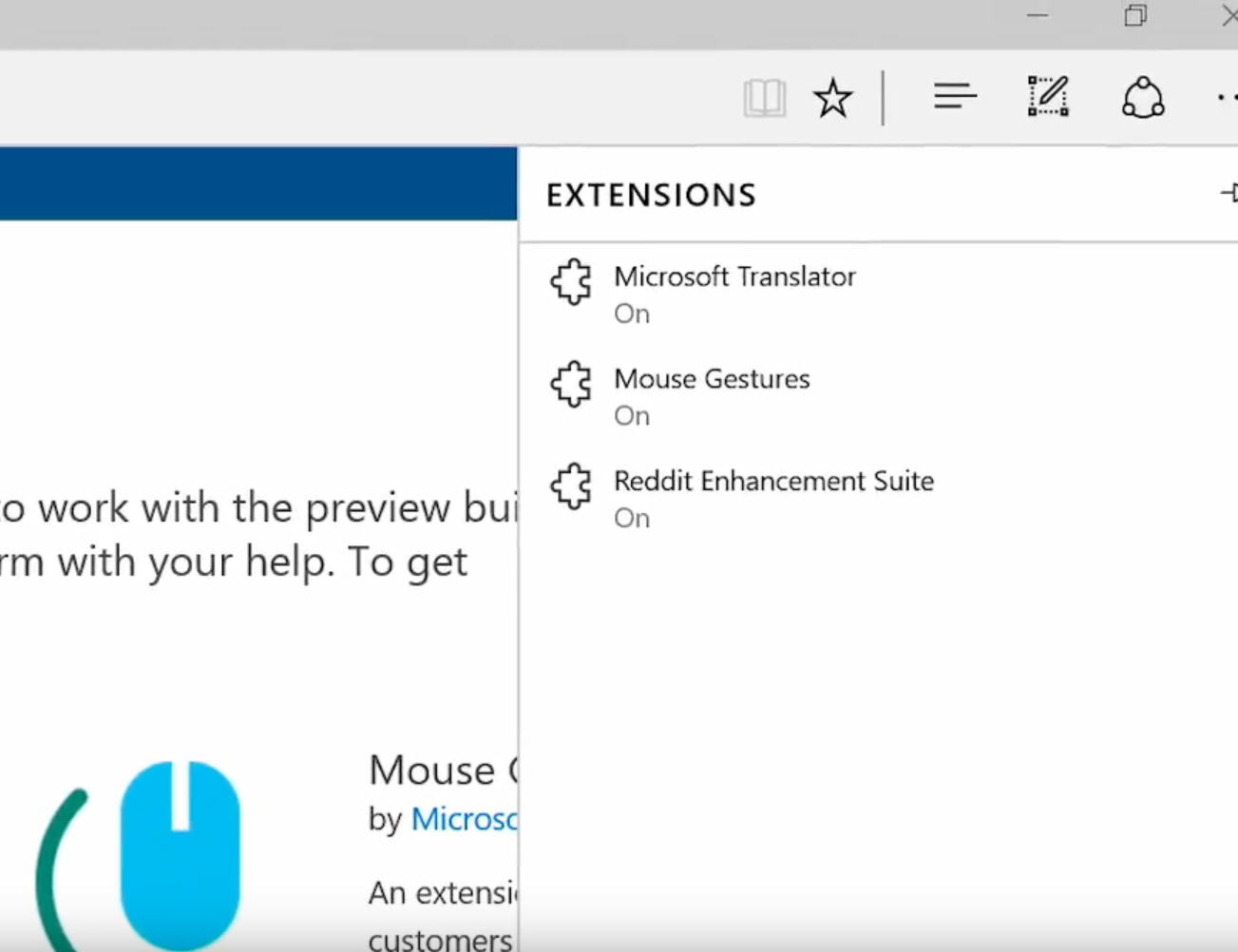 Although extensions currently have to be downloaded and sideloaded they will eventually be made available through the Windows Store.
Edge also now lets you pin tabs so you can have easy access to favorite and regularly used sites. This feature works exactly as you'd expect. To pin a tab, right-click on it and choose Pin tab. To unpin a tab, right-click on it and choose Unpin tab. Pinned tabs don't show a close button, so can't be closed accidentally.
Finally, you can now copy any link into your clipboard, and right-click on the address bar in Microsoft Edge and choose "Paste and go" from the context menu. This is a standard feature found in most other browsers, and is a welcome inclusion in Edge.
Other Changes
The updated Maps app offers a more lightweight and improved UI as well as general improvements and new features including one-tap access to search and directions from anywhere, the ability to view multiple searches and directions at the same time, and Cortana based turn-by-turn directions. You can read more about the changes to the app here.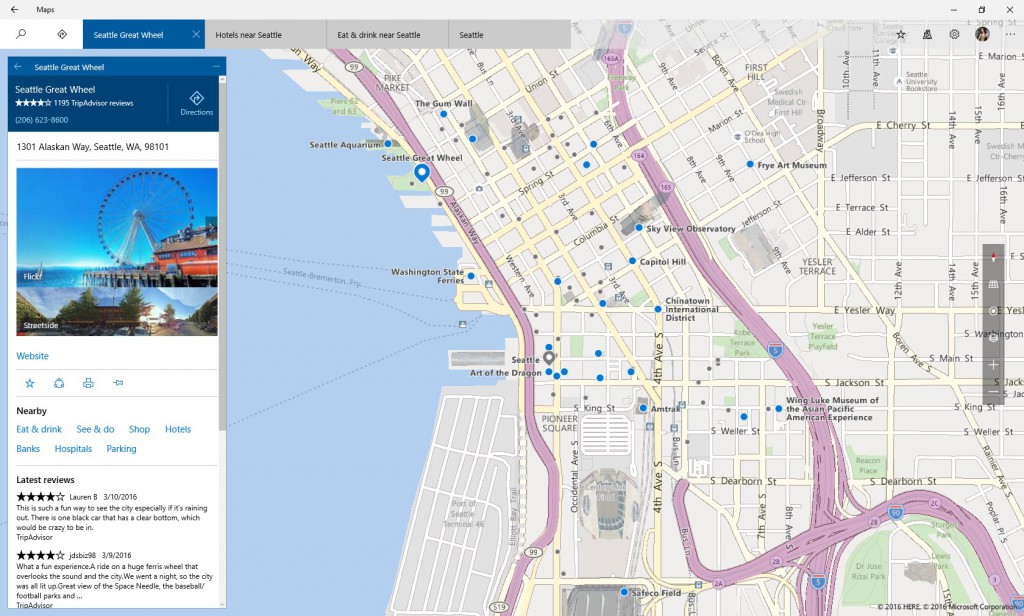 The Alarms & Clock app has been updated as well with a new inline time picker, and there are a couple of big improvements for Japanese users (one-handed kana touch keyboard and Lined-mode Text Input Canvas).
The Feedback Hub, which combines the Insider Hub and Windows Feedback apps, also makes its debut in this new build.
In addition to all those new features Build 14291 includes the following fixes:
The issue causing the notification area ("systray") to look out of alignment when turning on the "always show all icons in the notification area" should now be fixed.
Fixed the issue where connectivity to older Wi-Fi networks using the WEP encryption security method may be broken.
Fixed an issue where the "X" to close the "Find of Page" toolbar in Microsoft Edge is displayed off screen on 8-inch devices when in portrait mode.
Fixed an issue where the USB icon in the notification area was reverting to the old icon when ejecting drives.
Fixed an issue where clicking the suggested search in Microsoft Edge resulted in a URL to the search as the search string.
With this being a Fast ring release, there are the usual list of known issues to be aware of including:
Microsoft is continue to investigate an issue in which some Surface Pro 3, Surface Pro 4, and Surface Book devices experience a freeze or hang and all input such as keyboard/trackpad and touch do not work. The workaround is to hold down the power button to force the device to hard-reboot.
Your PC may freeze when plugging in an Xbox One or Xbox 360 controller and other gamepads in this build.
If you use Hyper-V and have a Virtual Switch configured for your network adapter, you may see an error indicator (red-colored "X") for your network adapter in the notification area of your taskbar. The error indicator is incorrect and your network adapter should continue to work just fine.
We are seeing reports of some apps such as QQ crashing. We are currently investigating, and this bug may also impact older apps such as Windows Live Mail and Expression Encoder 4.
If you have Kaspersky Anti-Virus, Internet Security, or the Kaspersky Total Security Suite installed on your PC there is a known driver bug that prevents these programs from working as expected in builds from the Development Branch. We are partnering with Kaspersky to fix this issue for a future release, but at this time there are no known workarounds. While this issue is present, we recommend using Windows Defender or another third party anti-virus product of your choice to remain protected.
Are you excited about the introduction of extensions in Edge? Will it make you use Microsoft's new browser?
Photo credit: charnsitr / Shutterstock