Samson launches Go Mic Connect portable laptop-focused USB microphone on Indiegogo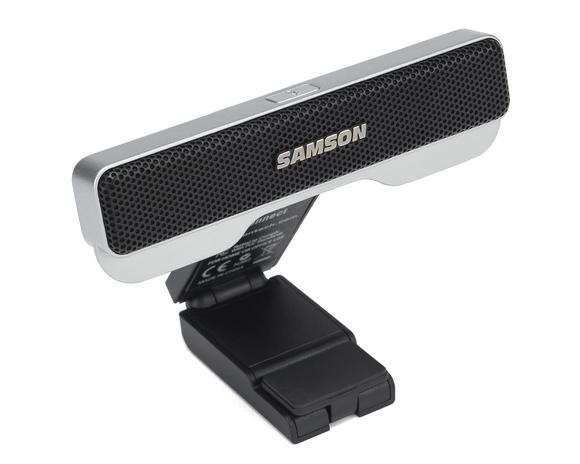 If you are a vlogger, podcaster, or someone who video chats while on the go, you know that a quality microphone is key. Sure, a good camera or webcam is essential, but if people can't hear you well, their interest will fade quickly.
Today, Samson announces a new laptop-focused portable microphone (it can also work with desktop monitors), called the Go Mic Connect. This should meet the needs of many on-the-go vloggers, podcasters and communicators. Unfortunately, the product is not yet publicly available, as the company is instead leveraging crowdfunding to make it a reality.
"Go Mic Connect attaches to your computer monitor, TV or sits on your desk to create superior digital communication and computer recordings in even the noisiest office and mobile recording environments thanks to Samson's Sound Deck software, equipped with Focused Pattern Technology and Digital Noise Reduction. Continuous, repetitive ambient noise is effectively removed from the microphone input, providing cleaner audio for podcasting, gaming, and voice over internet communication. Samson Go Mic Connect is available on Indiegogo at various pledge levels, starting at an Early Bird special price of $40 for a unit", says Samson.
The company further explains, "the extremely compact Go Mic Connect features an adjustable clip which allows it to be top-mounted on your TV or computer monitor without blocking the internal or external web cam. Users can also plug external speakers into the microphone's headphone output for voice over IP (VoIP), activating Echo Erase technology to eliminate any unwanted feedback".
Samson shares the following specs and features.
• Portable USB microphone with Focused Pattern Technology
• Ideal for Skype, FaceTime, Google Hangouts and VoIP communications
• Perfect for voiceovers, YouTube videos and recording music
• Samson Sound Deck software provides Focused Pattern Technology, Focus Direction, Digital Noise Reduction (DNR), Echo Erase and audio recorder
• Focused Pattern Technology adjusts pickup area ("beam") towards desired sound source
• Focus Direction provides user control over pickup beam direction
• DNR reduces ambient background noise (HVAC systems, computer fans, etc.)
• Echo Erase eliminates echo/feedback caused by external speaker monitoring
• Clips atop laptops, computer monitors and televisions
• Stands on desk for use with tablets and smartphones
• Headphone output for direct monitoring
• 1-touch Mute
• Mac and Windows compatible, no driver installation required
• USB cable and protective pouch included
While I am usually not a fan of crowdfunding, Samson is an established company -- it should be safe to participate. With that said, it was a bit surprising to me that the company needed funding this way. Apparently, it is not as simple as money -- the company shares the following explanation for the unexpected choice.
As a small company, we have the ability to react quickly and make changes based on input from users. Prior to crowdfunding sites like Indiegogo, we did not have the opportunity to directly interact with such a wide audience before releasing a product. We decided to create this campaign to give passionate creators the chance to use the Go Mic Connect before it becomes available to the public, as well as validate its place the market.
If you are interested, you can participate here. The eventual retail price will be $80, but there is an early-bird special of $40 and $50 which are both still available.
Will you buy it? Tell me in the comments.
This slideshow requires JavaScript.