Huawei's new P9 flagship features dual-lens Leica camera


One of the things that separate flagships from the rest of the smartphone crowd is their camera performance. Consumers expect to take great photos and videos with a top of the line handset, so manufacturers tend to use premium sensors and lenses for their best offerings. And, sometimes, they team up with a household name in the field when they really want to woo potential buyers.
For its latest flagship smartphones, called P9 and P9 Plus, Huawei has partnered with famous camera maker Leica. That is not the only thing that's different about its camera, however, as the main highlight is actually its dual-lens setup, which, among other things, enables the device to capture depth information for that lovely bokeh effect.
"Huawei is excited to give P9 users the best smartphone photography experience by leveraging the unrivaled capabilities of Leica, the leader in the world of imaging for more than 100 years", says Huawei Consumer Business Group CEO Richard Yu. "Consumers around the world use their smartphones to take billions of pictures each year, making photography critical to user experience. P9 users can now capture images with unmatched clarity, richness and authenticity, with a masterfully designed and powerful smartphone that looks and feels incredible".
It remains to be seen whether P9 lives up to those claims but, in the meantime, let's take a look at some of its most-important specs, starting with the cameras, of course.
The main thing that you need to know is that the dual-lens setup features two 12 MP, Sony-made, sensors and matching Leica-branded Summarit H lenses with an f/2.2 aperture and an equivalent 27mm focal length. Its field of view is typical of a high-end smartphone, but its low-light performance may to suffer next to, say, Samsung's Galaxy S7 which has a wider-aperture -- f/1.7 -- lens that can transfer much more light to the sensor.
Huawei, however, claims that P9 "truly excels in low-light conditions", though I have a hard time believing that after using a number of devices with a similarly-large lens aperture. There is only so much that you can do with a smartphone sensor these days before running into physical limitations.
Worth noting is that one sensor is RGB, for capturing color, while the other is monochrome, for, Huawei says, capturing better detail. There is Hybrid Focus technology, for super-accurate and fast autofocus. There are also a number of presets to change how images look, which is fairly standard for any smartphone today.
P9 is designed as standard-sized flagship smartphone, so it uses a 5.2-inch display. Where it falls short compared to some its Android-powered rivals is in the resolution department -- its resolution is 1,080 by 1,920. Samsung's Galaxy S7, for instance, has a similarly-sized screen with a resolution of 1,440 by 2,560.
P9 Plus is a larger version of the flagship, featuring a 5.5-inch screen and Press Touch technology. That is Huawei's version of 3D Touch, which debuted on iPhone 6s and iPhone 6s Plus last year.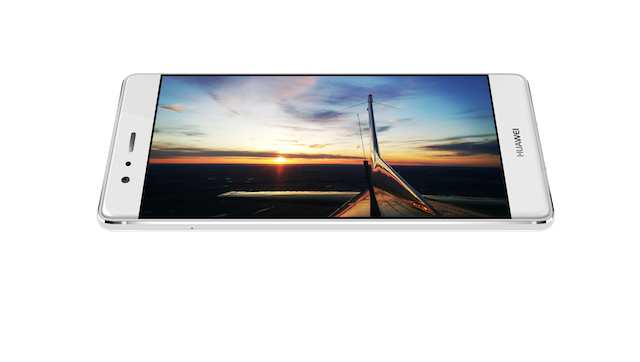 When it comes to processing power, Huawei has equipped P9 with a homebrew processor, called Kirin 955. Maxim clock speed is 2.5 GHz. There is a 3,000 mAh battery inside, which Huawei claims delivers "outstanding mobility and battery life". There are no estimates offered, however. P9 Plus features a 3,400 mAh battery, and adds dual-IC Rapid Charge, which is similar to Qualcomm's QuickCharge technology -- it is said to add up to six hours of talk time after 10 minutes of charging.
Last, but not least, both devices come with a fingerprint sensor, a feature which is becoming standard on smartphones in this class. It, of course, runs Android, but Huawei does not say which version. Hopefully, that'll be Marshmallow.
Huawei launched P9 in UK, with availability slated for May for both models. P9 will be priced at £449 off-contract, for a 32GB version with 3GB of RAM, while P9 Plus, which features 64 GB of storage and 4GB of RAM, will cost £549. You can check the available color options in the main photo, but you should know that availability will vary.