G.SKILL goes full rainbow-mode with new colors for Trident Z Series DDR4 RAM kits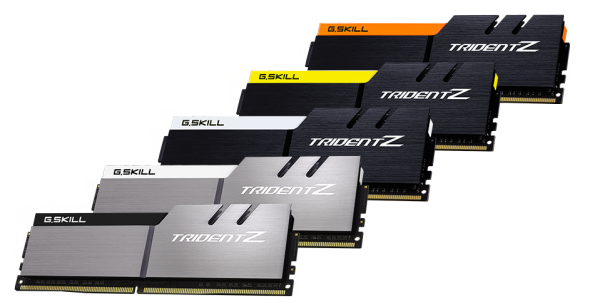 Building a computer is extremely fun. In fact, for some folks -- including yours truly -- the build itself can sometimes be more enjoyable than using the computer! Getting to select the case, components, and color scheme is very rewarding.
When I say "color scheme", I am not just talking about the outward appearance. The design of the inside is important too -- sort of like art. Picking SATA cables, SSDs and RAM sticks with matching colors can create something beautiful -- especially if you have a window case. Today, one of my favorite RAM manufacturers, G.SKILL, announces five new colors for its Trident Z Series DDR4 RAM kits.
"With a rise in popularity of modding and cases with window designs, these 5 new Trident Z color schemes are developed for enthusiasts, gamers, and modders who not only wish to include high performance memory in their systems, but also to add attractive visual appeal and show off their unique selection of hardware. Available in yellow, orange, white, and black highlights, these new color schemes pair exceedingly well with modern motherboard designs based on the X99 and Z170 chipsets", says G.SKILL.
The famed-manufacturer further says, "aside from the classic Trident Z design of silver and black brushed aluminum heatspreader with a red top-bar highlight, the new color schemes include a black brushed aluminum body paired with orange, yellow, or white top-bar or a silver brushed aluminum body with white or black top-bar".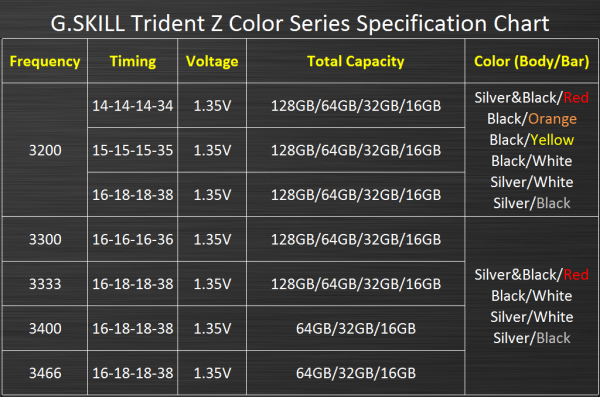 Clearly, the sticks are absolutely gorgeous, but it is not form over function. As you can see above, it has solid specifications too, making them a smart choice for any Intel build. I call out Intel specifically, because AMD processors are still only using DDR3. AMD will move to DDR4 eventually.
This slideshow requires JavaScript.
If you want to buy these sticks, you can get them at the end of this month. Pricing is currently unkmown, however, but should be revealed soon.
Which color is your favorite? Tell me in the comments (I rather like the orange).