Opera VPN offers secure, private browsing for iPhone and iPad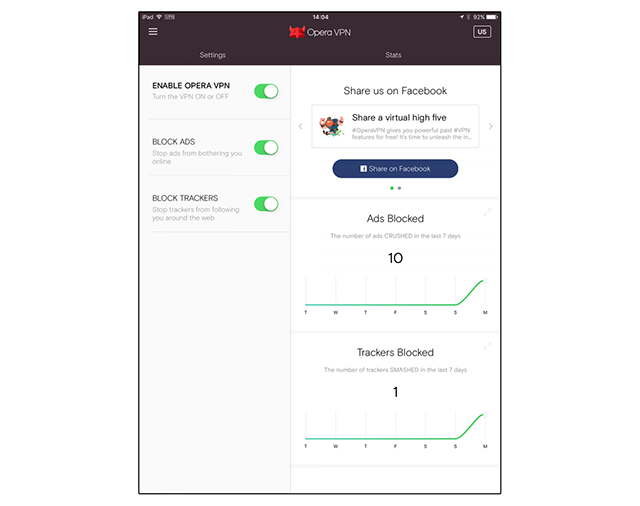 Norwegian browser developer Opera Software has launched Opera VPN 1.0, a free VPN service for iPhone and iPad users. The app provides users with the ability to encrypt their connection to the web for additional security, plus spoof one of five countries to bypass regional or network-specific restrictions. Other features include the blocking of both ads and tracking cookies.
VPNs -- or Virtual Private Networks -- were developed primarily to provide users with a secure network connection even through inherently insecure networks, such as open Wi-Fi hotspots. This encrypted connection can also be configured to provide the user with the means of providing a false location.
Opera VPN unashamedly targets this market with its free iOS app, coming hot on the heels on the recent introduction of VPN services to its desktop browser. Users can spoof one of five countries in this initial release -- US, Canada, Netherlands, Singapore and Germany -- with more likely to follow in due course.
The app merely provides a gateway to the internet -- once the encrypted connection is configured, users simply switch to their other apps and continue as normal. There's a noticeable lag, but this is the price paid for re-routing the connection, and is found with all VPN services.
Opera VPN tries to sweeten the deal by offering to block all ads and cookies -- this will speed up browsing, but there's no whitelisting facility for permitting ads from trusted websites. Both features can be switched on and off as required.
It's worth noting that VPNs can't bypass all restrictions -- an increasing number of network providers are starting to block VPN access, so there may be times when the service doesn't work.
Installation and setup is straightforward -- once stepped through the process, change location by tapping the lightning button and check for the VPN icon next to the wireless icon to indicate the connection is encrypted. Return to the app to disconnect, tweak settings or view stats about the connection, namely how many ads and tracking cookies have been blocked.
The app uses the SurfEasy VPN service, which Opera acquired in March 2015, and follows on from the recent introduction of VPN services to the alpha build of the Opera desktop browser.
Opera VPN 1.0 is available now as a freeware download for iPhone, iPad and iPod touch running iOS 8.0 or later.