Toshiba announces ultra-fast OCZ RD400 NVMe PCIe SSD with up to 1TB capacity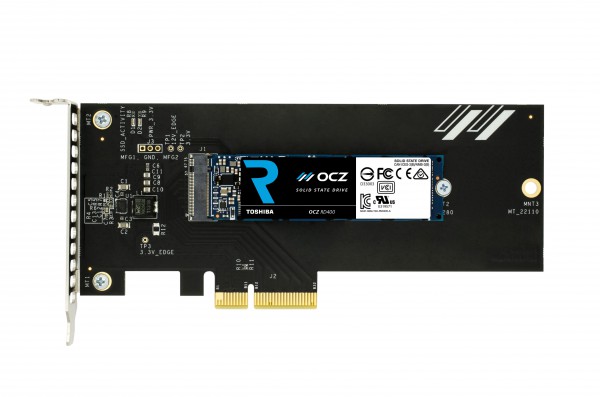 If you are still using a SATA SSD, you probably think your drive is fast. Yeah, compared to an old-school mechanical hard drive it is. However, the future of computing is all about NVMe PCIe drives. These solid state drive variants break past the SATA barrier, delivering amazing performance that older SSDs can't match.
Today, Toshiba announces the ultra-fast OCZ RD400 NVMe PCIe SSD. This drive offers insane read and write speeds, making it a wise choice for both gamers and PC enthusiasts alike.
"Unlike Serial Advanced Technology Attachment (SATA) based SSDs utilizing the legacy Advanced Host Controller Interface (AHCI) protocol, NVMe is the first storage protocol designed with SSDs in mind making the RD400 series one of Toshiba's fastest consumer SSDs to date. Additionally, the RD400's PCIe Gen3 x4 lane interface shatters the traditional SATA bottleneck by delivering over four times the performance of SATA SSDs. The RD400 series features sequential read/write speeds of up to 2,600 MB/s and 1,600 MB/s and random read/write performance of up to 210,000 and 140,000 4KiB input/output operations per second (IOPS)", says Toshiba.
The famed company also shares, "the RD400 series is targeted at both desktop and notebook users, but the compact M.2 2280 form factor enables ultra-thin notebooks to take advantage of PCIe speeds. Desktop users can still harness the power of the RD400 even if they don't have an M.2 slot by purchasing the PCIe adapter card version. Both models will be available in capacities of 128GB, 256GB, 512GB, and 1024GB".
This slideshow requires JavaScript.
Toshiba shares the full specs below, which can vary based on capacity.
PERFORMANCE
128GB
256GB
512GB
1024GB
Sequential Read
Up to 2,200 MB/s
Up to 2,600 MB/s
Up to 2,600 MB/s
Up to 2,600 MB/s
Sequential Write
Up to 620 MB/s
Up to 1,150 MB/s
Up to 1,600 MB/s
Up to 1,550 MB/s
Random Read (4KiB)
Up to 170,000 IOPS
Up to 210,000 IOPS
Up to 190,000 IOPS
Up to 210,000 IOPS
Random Write (4KiB)
Up to 110,000 IOPS
Up to 140,000 IOPS
Up to 120,000 IOPS
Up to 130,000 IOPS
ENDURANCE
TBW (Total Bytes Written)
74 TB
148 TB
296 TB
592 TB
Daily Usage Guidelines
40 GB/day
81 GB/day
162 GB/day
324 GB/day
Most desktop users will want to target the package that comes with the adapter. You will need a free x4, x8, or x16 PCIe slot. While some motherboards feature an m.2 slot, it is not very common. Not to mention, depending on drivers, chipsets, and heat, you might get better performance by not using the on-board slot. It is worth benchmarking to see if that is the case. Laptop users will want to be sure that their m.2 slot supports PCIe NVME and is not SATA-only.
Toshiba says availability is imminent, so if you are interested in purchasing, keep checking popular retailers such as Newegg and Amazon. Will you buy it? Tell me in the comments.