TripAdvisor and Google Play Music deliver regional playlists to Android listeners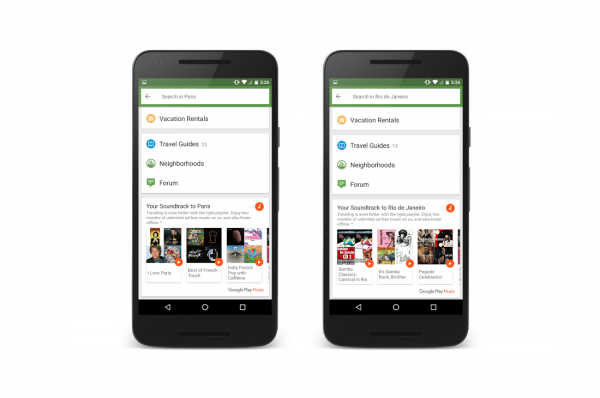 While there are many great streaming music services nowadays, such as Spotify and Apple Music, the best value is Google Play Music. Why do I say this? Well, it costs $9.99 monthly for an individual, but the real killer-deal is the $14.99 offer for the six-person family plan. The icing on the cake is free access to YouTube Red, delivering an ad-free video-watching experience, plus exclusive content.
Today, Google Play Music on Android is getting even better, thanks to a partnership with TripAdvisor. The popular travel-planning app can now deliver regional playlists, meaning you can hear the music popular with locals when you travel. Best of all? If you do not already subscribe to Google's streaming music service, you will be awarded two months free for just downloading the TripAdvisor Android app. This is absolutely brilliant for the upcoming summer season.
"Starting today, with the TripAdvisor Android app you can access a wide array of well-known and hidden-gem soundtracks for popular cities to listen to whether you're in travel planning mode or on a road trip exploring the globe. This new app feature is in more than 60 countries around the world where Google Play Music is available", says Brandon Bilinski, Product Manager, Google Play Music.
Bilinski further explains, "wherever you go, or whenever you start planning your next vacation, TripAdvisor and Google Play Music have your ultimate holiday soundtrack sorted. Travelers can listen to Cafe Italiano while sipping an espresso in Rome, rave to the Underground Club Sounds of Berlin and dance to Sao Paulo Funk".
This is superb -- not only can you do sight-seeing while vacationing, but now music-listening too! By enjoying the same music as the locals, it should enhance the overall experience. OK, true, this was always possible with an FM radio, or FM radio app.
With all of that said, music is quite global nowadays. There is a good chance you will be listening to Justin Bieber or Adele regardless of where you go!
If you do decide to take advantage of Google's free music offer for the summer, I recommend also investing in a durable Bluetooth speaker, such as the UE ROLL 2 found here, and seen in the above video. It will allow you to enjoy the tunes while partying in the pool or on the beach.
Will you take advantage of Google's two-month offer? Tell me in the comments.