AMD Radeon RX 480 brings premium VR to the everyman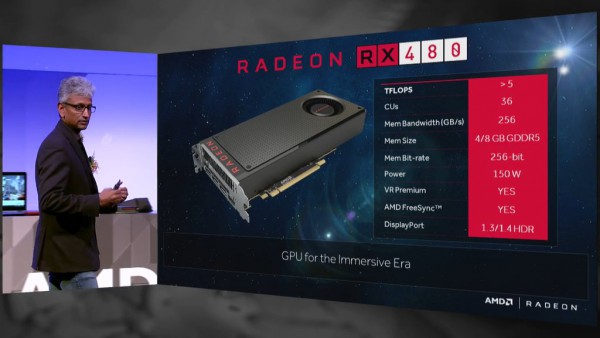 When NVIDIA announced the GTX 1080, the PC gaming community was largely in awe, and rightfully so. Its performance was impressive, and many folks wanted it. The problem? It has an MSRP of $600. At that price, the card -- while amazing -- is simply unobtainable for many. In fact, many high-end cards which are needed for a premium VR experience are too expensive for ordinary folks on a budget.
AMD was not satisfied with VR being a luxury reserved for those with deep pockets. Instead of focusing on raw performance regardless of price, the company set its sights on delivering VR to the everyman. Today, AMD's vision is realized, thanks to the all-new Polaris-based Radeon RX 480 graphics card, which starts at a shocking $199. It offers performance that is comparable to some $500 cards. PC gaming market, you have officially been disrupted!
"The Radeon RX Series will address a substantial opportunity in PC gaming: more than 13.8 million PC gamers who spend $100-300 to upgrade their graphics cards, and 84-percent of competitive and AAA PC gamers. With Polaris architecture-based Radeon RX Series graphics cards, AMD intends to redefine the gaming experience in its class, introducing dramatically improved performance and efficiency, support for compelling VR experiences, and incredible features never before possible at these prices", says AMD.
Raja Koduri, SVP and chief architect, Radeon Technologies Group, AMD explains, "VR is the most eagerly anticipated development in immersive computing ever, and is the realization of AMD's Cinema 2.0 vision that predicted the convergence of immersive experiences and interactivity back in 2008. As we look to fully connect and immerse humanity through VR, cost remains the daylight between VR being only for the select few, and universal access for everyone. The Radeon RX Series is a disruptive technology that adds rocket fuel to the VR inflection point, turning it into a technology with transformational relevance to consumers".

The RX 480 features a 256-bit memory interface, with either 4GB or 8GB of GDDR5. While the 4GB variant costs the celebrated $199, it remains to be seen how much more the 8GB model will be. As long as it is not too much more, enthusiasts will likely splurge on the extra memory. This amazing performance (more than 5 TFLOPS) only uses 150 watts, making it insanely energy efficient too.
Oh, and that expensive NVIDIA 1080? AMD claims that pairing two RX 480s together can sometimes outperform it in certain multi-GPU optimized scenarios. Two of AMD's newest cards together are less expensive than the 1080 too -- nice! With that said, multi-GPU systems can sometimes be problematic -- a single GPU is usually recommended.
If you are ready to buy the RX 480, you don't have to wait long. It will be available for purchase on June 29th.