SanDisk 'Ultra Dual Drive USB Type-C' flash drive now available with up to 128GB capacity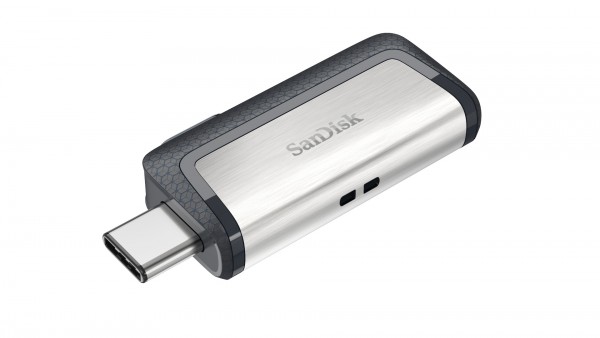 Even though the cloud is all the rage nowadays, flash drives are still pretty useful. If you need to install a Windows 10 or Ubuntu ISO, for instance, the little USB drives are much faster than optical media. Not to mention, with USB Type-C, flash drives can be easily mounted on both desktop and mobile operating systems -- depending on ports, of course.
Today, SanDisk releases the Ultra Dual Drive USB Type-C flash drive. The retractable Type-C drive also offers a Type-A connector, making it future-proof while also supporting older devices. Although not the first drive to offer dual connectors, it is certainly one of the more elegant options.
"Now available in up to 128GB, the sleek, new SanDisk Ultra Dual Drive USB Type-C includes one reversible USB Type-C connector and one standard USB (Type-A) connector, enabling users to easily free up space on a smartphone or tablet, or transfer files between smartphones, tablets and computers and next-generation devices. The drive also now delivers high-speed USB 3.1 performance of up to 150MB/s -- offering users phenomenal speeds when moving their photos, videos and files to a computer", says SanDisk.
Dinesh Bahal, VP of SanDisk product marketing explains, "with its reversible connector, impressive speeds, and multi-purpose potential, USB Type-C is a game-changer. More Type-C devices are entering the market and through our Type-C mobile drives, we can offer consumers a complete line of mobile storage solutions. The new SanDisk Ultra Dual Drive USB Type-C flash drive now provides more than twice the capacity and offers the flexibility to quickly and conveniently move photos, videos and files between devices, as well as the freedom to expand device capacity".
This flash drive will work with OSX, Windows, Android, and other Linux-based operating systems out of the box -- as long as the device has either Type-C or Type-A. If you own an iPhone or iPad, however, you will always have to use a Lightning to USB adapter. For those with a device that utilizes micro USB, you should be able to leverage an OTG cable to mount it.
If you are interested in buying this drive, you can get it starting today in the following capacities: 16GB ($20), 32GB ($30), 64GB ($40) and 128GB ($70).
Which capacity will you buy? Tell me in the comments.