Xiaomi Mi Pad 2 is the small Android tablet you've been waiting for [Review]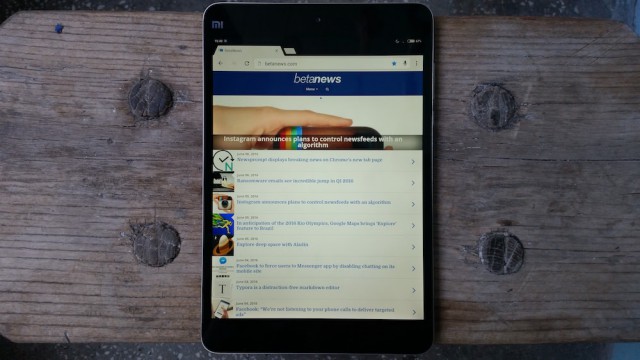 There aren't many small Android tablets that can set your world on fire. The manufacturers that are still invested in this market no longer seem to be interested in producing smaller devices, as their attention is now either focused on larger slates or hybrid devices. So, if you are in the market for a small tablet that runs Android, you clearly aren't spoiled for choice.
This is why, after nearly three years on the market, the second-generation Nexus 7 is still my favorite. Google's last small slate got so many things right back in 2013 that I have been struggling to find an attractive replacement for it. But since Xiaomi introduced the Mi Pad 2, I have been wondering whether it is the successor that I have been waiting for so long. Given the opportunity to test it, I set upon to find out whether there truly is a small Android tablet to get excited about these days.
In The Box
The Mi Pad 2 ships in a nice, white box with the tablet shown on the front. Inside you will find a USB Type-C cable and wall charger as well as the usual literature. The provided cable does not have USB Type-C ports at both ends, so you can plug it in any standard wall charger and it will work nicely; most of the time I have used my six-port USB charger to top up the battery on the Mi Pad 2. As you might expect, there are no headphones inside.
Design
The Mi Pad 2 is one of the most beautiful tablets that I have ever seen. The front is all-glass while the back is made of metal. The model that I have been testing is the gold version (the photos do not accurately show it though), but there are also silver and rose gold options to choose from. On the side there are rounded edges, which make the device feel great in the hand. On the front and rear there are discreet Mi logos.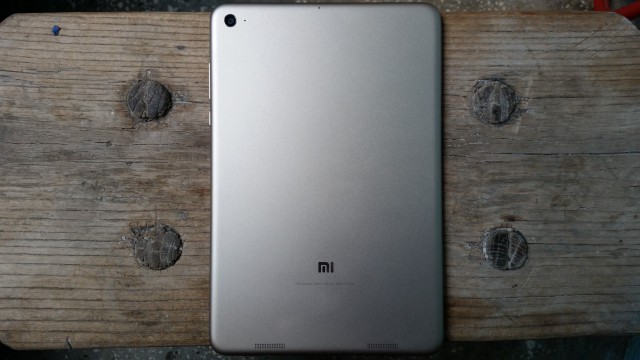 On the right side you will find two buttons, one for adjusting the volume and the other for power; both are clicky. For navigation, Xiaomi has opted for capacitive buttons, which are backlit. From left to right you have recents, home and back; they are all customizable in the settings menu, so you can choose how they work for a short and long press.
At the top of the tablet you will find the headphone jack, while the main camera is on the upper left corner of the back panel. The front-facing camera is above the display, right in the middle. The Mi Pad 2 also features a notification LED on the right side of the front-facing camera, and the software lets you choose which color you want to use for notifications.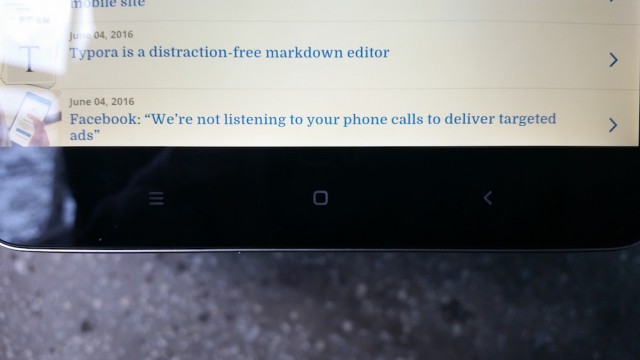 The tablet itself is pretty easy to hold, thanks to those rounded edges, but because Xiaomi has opted to use a 4:3 display it is a bit wider than most Android tablets out there, which have a 16:9 or 16:10 screen.
After using a second-generation Nexus 7 for nearly two years, I can feel a difference though not a substantial one. Same goes for the weight. But, really, this tablet is not aimed at Nexus 7 users as much as it is aimed at prospective iPad mini buyers; this much is obvious after looking at it and using it.
The Mi Pad 2 measures 200.4 x 132.6 x 6.95 mm and weighs 322 grams. The latest iPad mini is very close in terms of size and weight, coming in at 203.2 x 134.8 x 6.1 mm and 298.8 grams. The second-generation iPad mini, which the Mi Pad 2 is closer to in terms of price, comes in at 200 x 134.7 x 7.5 mm and 331 grams (the cellular models are heavier in both cases).
Display
The display is probably the most polarizing thing about the Mi Pad 2. Unlike most Android tablets which have a wide display -- as I mentioned above -- the Mi Pad 2's screen has the same aspect ratio and resolution as that of the Retina iPad minis.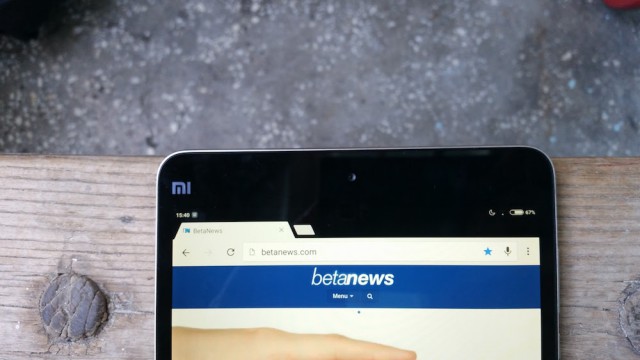 That means that you get a 7.9-inch IPS panel with a resolution of 2,048 by 1,536. And, as you might expect, everything looks sharp on it. The high resolution takes care of that. Viewing angles are good, colors look nice, and it gets bright enough too. But, how does it work while using the tablet?
Well, in the case of videos you do get black bands at the top and bottom, which are a given, but other than that it works without any surprises. Most apps that I have used had no problems with the aspect ratio and neither did all the sites I visited. While reading and using apps the aspect ratio works in its favor, as you get more content on the horizontal direction when holding it in landscape mode.
In fact, it works very well in both orientations, as no side is significantly longer than the other. This is a plus for me, considering that I tend to use my tablet a lot in landscape mode when reading the news or browsing, for the obvious reasons. And, when watching videos, I have no problems either. Other tablets in this segment tend to be a bit too long to be used comfortably in landscape mode, but the Mi Pad 2 manages to be quite versatile overall.
When you're reading you can activate a special mode, which changes the color temperature to show warmer tones that are kinder to your eyes. This is particularly useful in low-light, like when you are reading at night in bed with the lights turned off.
Performance
The Mi Pad 2 is among the only tablets that you will find rocking an Intel processor. You are looking at a high-end 64-bit Atom X5-Z8500 chip, which does not display any performance issues in day to day use. You may notice the occasional hiccup, that is all too common in the Android world, but other than that it will perform very well. Games work fine, and so do apps.
In terms of multitasking, you should know that there are two versions of the Mi Pad 2. The version that I have been testing comes with 2GB of RAM, while the other model packs 4GB of RAM. Obviously, if you want the best performance here you should opt for the latter, but even this one performs admirably all things considered. With light usage, apps should not have to reload often when switching between them.
To give you a better idea of how it performs, I have used some benchmarks to assess how it fares when subjected to some heavier loads. Below you have the test results from 3DMark, Androbench, AnTuTu, Basemark OS II, Basemark X, Geekbench 3, GFXBench GL, Octane, and PCMark.
Cameras
If you want to take photos and videos with the Mi Pad 2, you will probably want to know a bit about the cameras. So here is the gist of it: you have an 8MP camera on the back and a 5MP shooter on the front. Both can take 1080p video. Both will work just fine considering that neither is designed to capture the most important moments in your life. Selfies will have enough detail to share on social media, and photos taken with the rear-facing camera will be decent.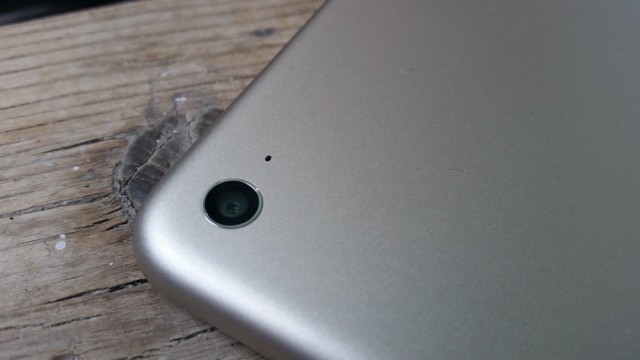 Speakers
The Mi Pad 2 has to perform well as a multimedia device, so its speakers have to live up to some pretty high expectations. During my time with it, I found them to be up to the task. Right off the bat, I should say that we have a dual-speaker setup. It gets plenty loud and, to my ears, sounds pretty good as well. Just like on other devices, the speakers are positioned on the back, towards the bottom of the rear panel, but this works well.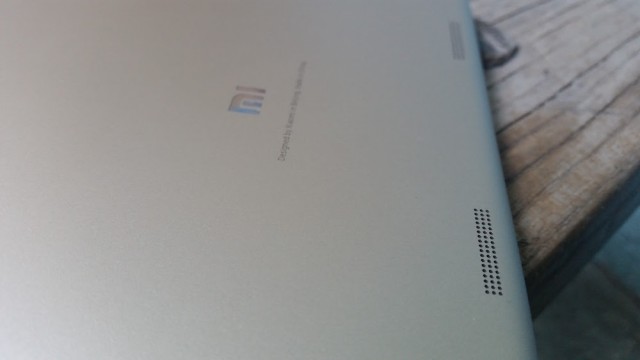 This is not an ideal positioning, but I found myself not covering them with my hand. And, second, when the tablet is on a flat surface, like my desk, the sound does not change dramatically, so you can continue to enjoy music playing on YouTube, for instance. They, of course, sound best when the Mi Pad 2 is held at an angle, but either way I like them.
Storage
The Mi Pad 2 is available in two storage configurations, which also influence the amount of RAM that you get. The 16GB model is paired with 2GB of RAM, while the 64GB model gets 4GB of RAM as standard. The version that I have tested is the former, and with the firmware that I've been running it gives you just shy of 13GB of user-accessible storage.
If you want to know how it performs, check out the Performance section above where I have included the test results from AndroBench, a benchmark that is commonly used to test storage performance on Android devices. It shows sequential read and write speeds and random read and write speeds, as well as some SQL tests results and app opening times.
As you might expect, my recommendation is to shell out for the top of the line version. Not only do you get four times more storage but you also have twice as much RAM, which helps in day to day usage. It is a bit more expensive, but it is worth it if you plan on keeping the tablet for a while and loading lots of apps and games on it.
Battery Life
To keep the Mi Pad 2 going, Xiaomi has slapped a 6,190 mAh battery inside, which is quite large for a device as slim as this. There are also various options and optimizations that let you maximize performance, but because it has to power that high-resolution screen battery life can only be described as good. You can expect around four hours of screen-on time with average use. To give you an idea about battery life, after nearly three hours and 15 minutes of screen on time the Mi Pad 2 indicates that it has about 40 percent battery life left. It could be even higher, but I think the battery consumption under standby is a bit higher than it should be.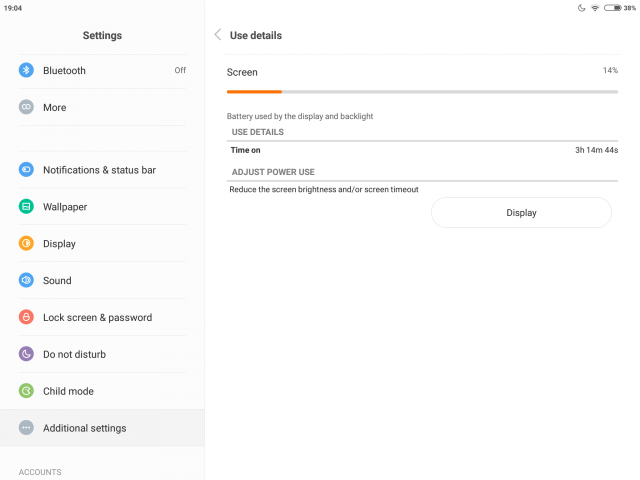 Software
Xiaomi is one of the Android manufacturers that like to offer a unique user experience and the level of customization reflects that. MIUI 7.2, which is the latest version of its Android distribution for Mi Pad 2, may be based on Android 5.1 but you will be hard pressed to recognized that it has Lollipop underpinnings. If you have read my Mi4c review then you know what to expect, but for everyone else this is going to feel very different to other skins. Just like the display, the stock launcher is going to divide opinion.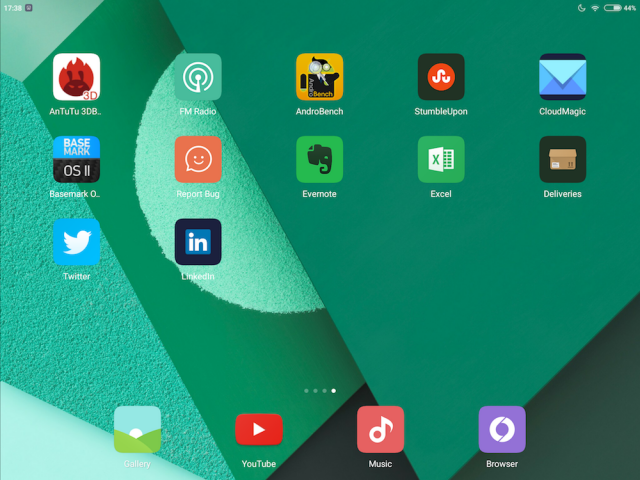 MIUI has a very simple launcher, that features no app drawer. Just like on iOS, apps are shown on homescreens, and you can choose where you want certain apps to be and group them into folders. Deleting an app from the homescreen also uninstalls it. Widgets get their own screen, to the left of the first homescreen, and can also be placed where you want them to. It does not take long to get used to this, but if this is not your cup of tea installing another launcher is also possible.
I find the Google Now launcher works well on the Mi Pad 2, though Google has not properly optimized the Now page for this aspect ratio. I also use it on my other device, so when I switch devices I know where everything is and how it all works. A benefit of a launcher like Google Now is that you get an app drawer, so you can keep the number of homescreens to a minimum.
Also done in an iOS fashion is the recent apps interface, which shows apps as cards in the middle of the display. You swipe up to close them, and sideways to switch between them. If you swipe down you lock the app, so it does not close when you clean the memory. That can be done by tapping on the X button at the bottom of the screen. It is a nice feature to have, though you will likely want to use it less often if you go for the 64GB model with 4GB of RAM.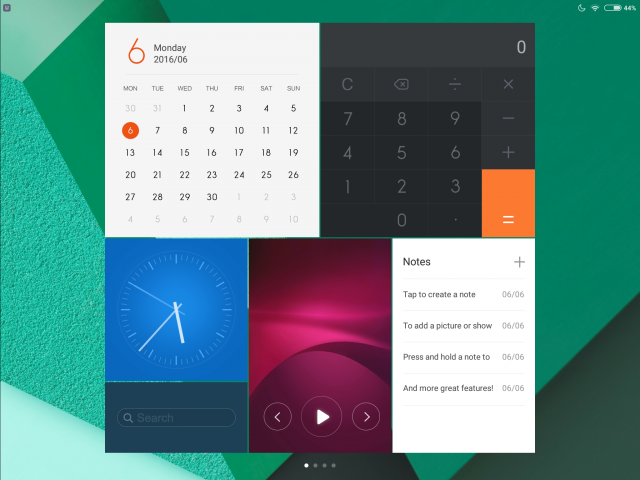 What you will find less controversial is the Settings menu. It looks like a MIUI component, but it includes pretty much everything you can find in a closer-to-stock Android distribution but with the added benefit of some extra options. You can, for instance, enable double tap to wake the screen, choose between different headphone profiles, choose which apps to use as default from a single menu, change notification settings, change the font size, and more.
Due to all the features that Xiaomi has crammed into MIUI it is easy to configure the software just as you want it to be. This I find to be a huge plus, as there are things that I like to have in a certain way which can make the experience more pleasant at times. For instance, I may not want some apps to start automatically, and the Autostart menu lets me choose which ones can do that. Or, I may want some apps only to have a badge counter for notifications but not have any floating notifications popping up. The fact that I can do these sort of things makes MIUI quite nice to use over time.
The only real problem with MIUI on the Mi Pad 2 is that it lacks official Google Play support. But you might already know this and, at least for me and others who venture into Android modding, it can be easily remedied. Xiaomi has not launched this tablet internationally, so there is no global ROM to go along with it that gives you access to Google's popular app store and services. The tablet does come with Play access, as retailers want customers to be able to use it as they want, but if you want to go the custom ROM route you can as the bootloader is user-unlockable.
I have tested this tablet using the developer firmware from Xiaomi.eu, which removes some of the apps and functionality aimed at the Chinese market and adds some customizations that users in Western markets might want. You can also try SMIUI, which is based on the Xiaomi.eu firmware and gives you the option of adding some tweaks before creating the ROM. In any case, the codename for the Mi Pad 2 is "latte", just so you know which ROM to pick. As far as Google Apps go, I recommend the nano package for the x86_64 platform and Android 5.1 Lollipop from OpenGapps. The recovery of choice is TWRP, which is also available through Xiaomi.eu but can also be found at the official MIUI forums for the Mi Pad 2.
Something else that is worth mentioning is that Xiaomi has not announced whether the Mi Pad 2 will get MIUI 8 support. The hardware is certainly capable of handling it, but there are currently no alphas or betas available for this device, though there are for other handsets in the company's lineup, like the newly-introduced Mi 5.
Verdict
If you are looking for a small Android tablet then the Mi Pad 2 is among your best options. Quite frankly, its value proposition is hard to beat: it has an impressive feature set and it can be had for less than $200. The overall package is extremely compelling when taking those things into account, so you can imagine that it gets a big thumbs up from me. If you decide to snag one, you can now get the 16GB model for $186.94 from GearBest. If you want the 64GB Mi Pad 2, GearBest currently sells this version for $252.55.
Worth mentioning here is that there is also a Windows 10 version of the Mi Pad 2 and a version which has both Android 5.1 Lollipop and Windows 10, both based on the 64GB model. GearBest offers the former for $249.89 and the latter for $307.41. While I have not had the chance to test either of them, I believe performance should be similar, if not better considering the added RAM.