Xiaomi Mi4c: Awesome Android smartphone that doesn't break the bank [Review]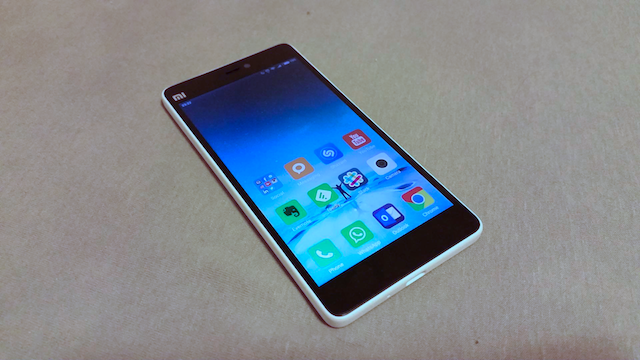 These days you do not have to spend much to get a good smartphone. Using a Xiaomi Mi4c as my daily driver for the past couple of weeks has made it clear that you can get an impressive handset for just around $200. It is the sort of smartphone that makes you believe that you can have your cake and eat it too -- its specs read like those of some flagships while its price is similar to that of more affordable mid-rangers.
The software is pretty nice as well. Unlike some other interpretations of Android, Xiaomi's MIUI looks good and adds some worthwhile changes that overall add up to a solid user experience. Now, let's take a closer look at Mi4c.
First off, let's go through the specs: 5-inch IPS display with a resolution of 1,080 by 1920; hexa-core Qualcomm Snapdragon 808 processor (four 1.44 GHz Cortex A53 cores and two 1.82 GHz Cortex A57 cores); Adreno 418 graphics; 2 GB or 3 GB of RAM (and 16 GB or 32 GB of storage, respectively); 3,080 mAh battery; 13 MP camera with f/2.0 lens and dual LED flash; 5 MP front camera with f/2.0 lens; dual SIM support; Wi-Fi 802.11 a/b/g/n/ac; Bluetooth 4.1; USB Type-C port; Android 5.1.1 Lollipop-based MIUI 7; dimensions: 138.1 x 69.6 x 7.8 mm (5.44 x 2.74 x 0.31 in); weight of 132 g (4.66 oz).
Exterior Design and Build Quality
Mi4c is a nice-looking smartphone, with a clean design all around. There are two discreet MI logos, one on the front and the other on the back, but other than that there's nothing that screams "Xiaomi".
There is a glass panel which covers the frontal area, with only a single cutout for the ear piece. The back of Mi4c is made out of plastic. The version that I have received for review is white; there are other color options available, including a metal gray.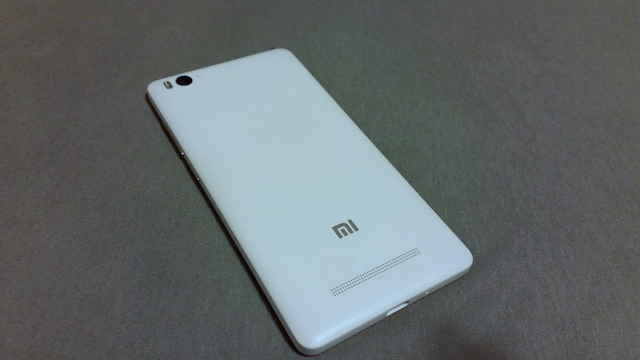 On the bottom half there are small cutouts for the speaker, and the camera is positioned in the upper left corner. The dual LED flash sits to its left.
There are two buttons on the right side, one for adjusting the volume and the other for locking/unlocking the device. On the opposite side is the SIM tray. There is no microSD card slot here, however. The USB Type-C connector is at the bottom. On top of the device are the headphone jack and infrared port.
Build quality is excellent. There are no issues to report here. The smartphone is very well put together, the buttons have a lovely feel when pressed, and there are no strange gaps. The phone feels nice in the hand, and, due to its manageable size, is easy to use one-handed. My only gripe is that it can be a little slippery, but this is the case with so many smartphones these days.
Display
The display is certainly a standout feature of Mi4c when compared to other smartphones in this price range. It's a 5-inch IPS panel, which enables excellent viewing angles, and a resolution -- 1,080 by 1,920 -- that is high enough to offer a very good experience while watching videos or browsing.
Other than that, the display is also quite nice to look at. Icons look like they've been painted on the it, and colors look vivid. The display is bright enough outdoors, and the adaptive brightness feature reacts fairly quickly to changing lighting conditions.
How the display renders colors can be changed in the settings, to make them look warmer or cooler depending on your preference. Also, contrast can be boosted. There is also a reading mode that can be enabled to reduce glare. Mi4c allows you to double tap to wake the screen. The display turns on immediately after this gesture is performed.
Performance
Xiaomi has equipped Mi4c with a very fast processor. The Snapdragon 808 chip that is used here is a high-end offering that can also be seen in LG's G4 for instance, which is paired with 2 GB or 3 GB of RAM, depending on the configuration. The version that I have been testing has 2 GB of RAM and 16 GB of internal storage, but for a little extra you can get the model with 3 GB of RAM and 32 GB of internal storage -- it's recommended if you store more files on your smartphone although some folks can easily get by with the base version.
As you might imagine, the processor allows Mi4c to perform very well in day to day tasks. Navigation through the UI is fluid, apps open quickly, and there is generally no noticeable lag. What matters most is that it's quick to respond to the touch, which is quite impressive for such an affordable Android device. Honestly speaking, there's not much that separates it from a current-generation flagship.
The amount of RAM is on the tight side for multitasking, but you can always easily clean the memory when the need calls for it: open the recents menu, hit the "x" button and all your apps are now closed. With no apps open I had nearly 1 GB of RAM at my disposal, after the OS had taken its fair share. I rarely felt the need to use the memory cleaner feature.
Camera
Having good cameras is extremely important these days, as more and more people are looking at smartphones to capture the most important moments in their lives. Fortunately, Mi4c is equipped with two high-resolution shooters, a 13 MP one on the back and a 5 MP sensor on the front. They look good on paper, but how good are the images that come out?
Mi4c produces good looking photos with both cameras in good-to-average lighting conditions. There is plenty of detail for my taste, and the images are more than adequate for sharing on social media if that's your cup of tea. I like the color reproduction, the noise is kept in check, and, generally, things look nice. There are no focusing issues to report, which is good. Same goes for video.
In video mode, you can record slow-motion video, and use continuous auto-focus or tap to focus. There is no 4K support, but, again, that's not really a downside in this case.
Where the main camera suffers is in poor lighting conditions. That is to be expected, as there is no optical image stabilization here. At this price point, this is not really a major complaint, however. That said, you can get some pretty decent results in some scenarios, as long as you've got steady hands.
The front-facing camera is also good -- for a front-facing camera that is. I am no fan of selfies, but I did enjoy snapping photos with it. If you want to share them on social media, you will be fine with the quality.
This slideshow requires JavaScript.
Xiaomi also did well when it comes to the software. The camera app is very easy to use, and there are plenty of settings to configure if you so choose. There are also filters you can apply on the fly, and different modes to shoot in (like a fisheye mode).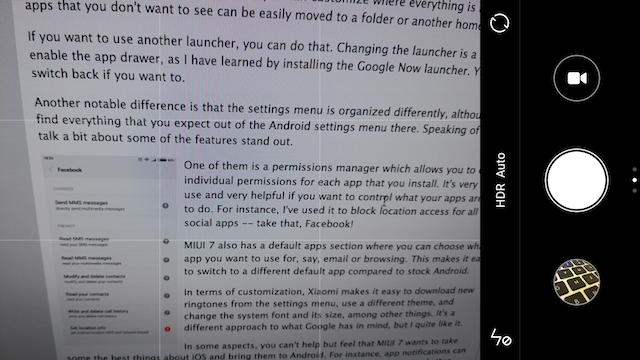 There's nothing missing there, and I am sure that most people will be fine with the default settings anyway. More knowledgeable users can play around in manual mode, but I think the default auto is what most folks will want to use.
Battery Life
I am the sort of smartphone user who likes to keep every feature that I may need enabled, so I never turn off the location services or dim the screen to save battery life. I also have a significant number of apps syncing data in the background, like Outlook with three email accounts configured and eight social media and communication apps. Also, all of my photos and videos get automatically uploaded to two storage services, Google Drive and OneDrive.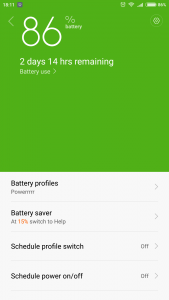 Keeping all that in mind, I am quite pleased with the battery life that I'm getting with Mi4c. It gets me through the day, with a few hours of actual usage. I tend to charge it every 24 hours, and that is on a 4G LTE network. I haven't tested the dual SIM capability, so I cannot say how much it will last when hooked up to two cellular networks, but I am pleased with the results I have been seeing. Wi-Fi is always used at home for Internet connectivity, but I only rely on my carrier's network when I head out
Since we are on the matter of battery life, I should note that MIUI offers a battery saver mode, which I have set up to kick in at 15 percent battery left. You can customize how aggressive it is by creating your own mode to default to at a certain percentage or use one of Xiaomi's pre-defined modes.
It's worth noting that Mi4c support Quick Charge 2.0, so its battery can be topped quickly with a wall charger.
I have also been offered to test a Xiaomi-branded external pocket battery. It offers 6,250 mAh at 5.1V, which should allow you to charge Mi4c twice from zero. It's small, so it can easily be carried in a jacket pocket or in a bag. This one can be had for $11.89 at the time of writing this article.
MIUI 7
MIUI 7 may be based on Android 5.1.1 Lollipop, but it is quite different to what you see on a Nexus device. Like other Android makers, Xiaomi has chosen to add its own set of customizations to the operating system, but they're not your typical tweaks.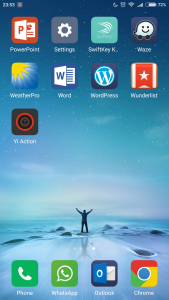 The first difference between MIUI 7 and other custom Android distributions that you will notice is that there is no app drawer. All your apps are on the homescreen, which is an iOS-esque approach. I personally don't mind it, as you can customize where everything is anyway so the apps that you don't want to see can be easily moved to a folder or another homescreen.
If you want to use another launcher, you can do that. Changing the launcher is a simple way to enable the app drawer, as I have learned by installing the Google Now launcher. You can easily switch back if you want to.
Another notable difference is that the settings menu is organized differently, although you will find everything that you expect to see in a typical Android settings menu there. Speaking of it, let's talk a bit about some of the features that stand out.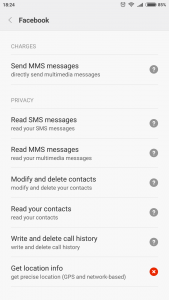 One of them is a permissions manager which allows you to configure individual permissions for each app that you install. It's very easy to use and very helpful if you want to control what your apps are able to do. For instance, I've used it to block location access for all my social apps -- take that, Facebook!
MIUI 7 also has a default apps section where you can choose what app you want to use for, say, email or browsing. This makes it easier to switch to a different default app compared to stock Android.
In terms of customization, Xiaomi makes it easy to download new ringtones from the settings menu, use a different theme, and change the system font and its size, among other things. It's a different approach to what Google has in mind, but I quite like it.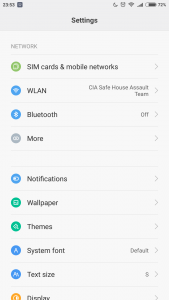 In some aspects, you can't help but feel that MIUI 7 wants to take some the best things about iOS and bring them to Android. For instance, app notifications can all be configured from the same place with fine control over them: you can choose whether badges can be enabled, if notifications can show up on the lockscreen, and much more.
There's an iCloud-like Mi account which allows you to sync contacts, messages, photos, call history, notes, and calendar, among other things, and even find your device. It also enables an iMessage-like Mi Message service, which enables free messages among Xiaomi users. This is a nice touch, no doubt.
Since I have mentioned the infrared port earlier, I should say that there is an accompanying Mi Remote app which lets you control all sorts of devices using a Mi4c. There are lots and lots of brands supported in each category.
The Mi Remote app isn't the only Xiaomi-made app that's preloaded, as you also have apps for browsing, listening to music, watching videos, voice recording, managing files, and more. There's pretty much everything you need out-of-the-box, though I assume many will want to turn to Google Play for their favorite titles anyway.
Other Impressions
At the time of writing this article, Xiaomi does not officially sell Mi4c outside of China. The only reason why this matters is that there is no global ROM officially available for it. Devices that are sold right now through retailers may have Play Store pre-loaded, as in my case, but some may not. (However, Google Play can easily be installed using this app available on Xiaomi's forums.)
Luckily, Mi4c is modder-friendly. I have installed a couple of ROMs on it already; it's very easy to do so, if you've done this before on other smartphones. Xiaomi also appears to be quite open about this, which is nice. There's an unofficial global ROM available for Mi4c from Xiaomi.eu, which might make up for the lack of an official one at least in the eyes of experienced users.
Also worth mentioning is the speaker on the back of Mi4c. Its positioning may not be ideal, but, to my ears, it's the loudest smartphone speaker I have heard to date. I have never missed a call during my time with it. Also, sound quality during calls is very good.
Cellular reception has been strong everywhere I have used the smartphone, with no issues to report. Wi-Fi signal is also very good, and when connected to my ASUS RT-AC66U router link speed is over 700 Mbps.
Xiaomi has provided a USB Type C cable in the box, and, of course, a charger. Both are black. There are no headphones included, however, so you will have to supply your own. A pair of Xiaomi-branded headphones, in case this is what you are looking for, are reasonably priced at $12.49.
Well, How Much Does It Cost?
As I mentioned earlier, Xiaomi does not officially sell Mi4c outside of China. However, there are retailers which offer the handset internationally. We have received this review unit from GearBest, which has very competitive prices on all Xiaomi products. There, Mi4c can be had for as little as $224.98, at the time of writing this article, for the 16 GB model; if you want the 32 GB model it is also available, starting at $249.99. For either model, pricing depends on the color option and where it's being shipped from (those who live in the EU, for instance, can opt to have it shipped from an EU warehouse to avoid paying VAT and any other import fees).
Photo Credit: Mihaita Bamburic