CORSAIR unveils Neutron Series XTi SATA SSD with capacities up to 1,920GB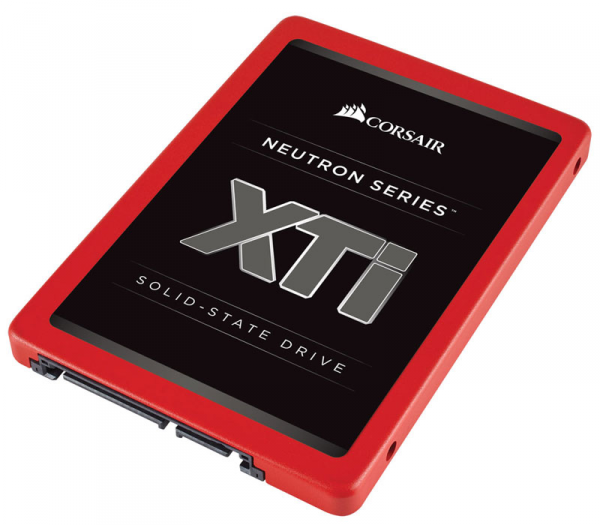 While warm weather is finally here, and many of our days will soon be filled with outdoor activities, the sunshine and fresh air can get a bit tedious. As a computer nerd, I like to balance my trips to the beach with both gaming sessions and PC builds in my dingy basement.
If you are planning to build a new PC this summer -- or upgrade your existing machine -- there are a lot of amazing new components available. As a prime example, today, CORSAIR announces its new Neutron Series XTi line of solid state drives. Since it uses a traditional SATA interface, compatibility is high, but speeds are lower than the newer NVMe offerings. The really cool aspect, however, is the monstrous top capacity of 1,920GB -- damn near 2TB!
"The Neutron Series XTi utilizes a dedicated quad-core controller for top tier top tier speeds with sustained performance and low command latency. The result is exceptional transfer speeds of up to 560MB/sec, 540MB/s sequential write, 4KB random read of up to 100K IOPS and 4K random write of up to 90K IOPS; up to the tasks of today's most demanding end-users", says CORSAIR.
The popular manufacturer further says, "the Neutron Series XTi is also equipped with end-to-end data path protection, ensuring data is protected against corruption from the host to the NAND gate. Combined with power loss protection with advanced SmartFlush and GuaranteedFlush technologies as well as a host of error correction technologies, the Neutron Series XTi secures your drive for an ultra-consistent and reliable experience".
This MLC SSD uses a quad-core Phison controller, and is optimally fast for SATA, as it effectively saturates that interface. While there are much faster NVMe offerings, that does not mean SATA drives are slow; quite the contrary. For most consumers -- especially those upgrading from HDD -- the Neutron Series XTi should be absolutely brilliant.
While appearances do not impact performance, it is still an important aspect of a PC build for some folks -- including yours truly. Yeah, it is subjective, but the red and black colors found on this drive really make it pop. This would look wonderful in a window case, depending on your color scheme, of course.
If you are interested in purchasing the Neutron Series XTi, I have good news and bad news. The good news is, you can get the 240GB, 480GB, and 960GB variants today for $89.99, $159.99, and $329.99, respectively. The bad news? The availability and pricing for the famed 1,920GB model is still unknown. D'oh! Hopefully we will learn more soon.
Which capacity will you buy? Tell me in the comments.