Opera 38 unveils battery saver feature for laptops, promises reduced power consumption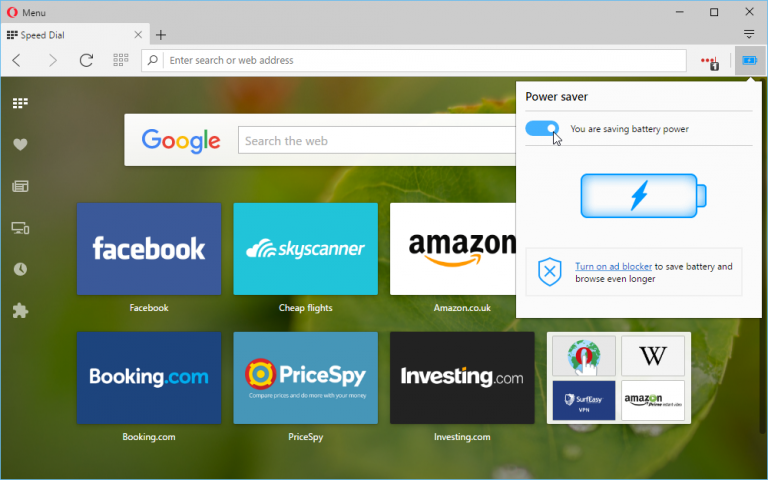 Just one month on from the previous stable release, Opera Software has released Opera 38 FINAL. The latest release of this desktop browser for Windows, Mac and Linux has one major headline of note: new battery and power saver features for laptops.
The new build also refines the app's ad-blocking tool by allowing users to import their own block lists, plus makes several minor Speed Dial improvements.
Opera 38's new battery saving feature is aimed primarily at laptop users. Web browsing can be a power-hungry pursuit, with multiple tabs open and media playback all contributing to power drain.
Opera claims the new feature when enabled can extend battery life by up to 40 percent -- and even more when the ad-blocking feature is also switched on.
It works by placing a battery icon in the main taskbar whenever a laptop is running on battery power -- click this and flick the switch to switch the feature on. Opera will also flag up a reminder to use the switch if the battery dips below 20 percent.
Power demands are reduced by reducing background activity in tabs, automatically pausing plugins not currently in use and disabling any browser theme animations. Video frame rates are dropped to 30fps and Opera forces the use of hardware accelerated video codecs.
Those with low-powered machines may wish to use the feature too -- in which case simply pin the switch permanently to the Opera toolbar via Menu > Settings > Browser.
One beneficial side-effect of these reduced power demands is that computers will put out less heat -- up to three degrees Celsius -- which ensures quieter, more stable operation.
Other changes in Opera 38 include adding support for user-curated block lists in Opera's Ad blocker: users must first tick 'Show advanced settings' under Browser before switching to 'Privacy & Security' and clicking 'Custom block lists'.
The Speed Dial has also been tweaked -- the Delete button has been replaced by a '…' button providing quick access to features previously restricted to the context menu. The option for adding photos as a theme has been made more visible, while a new Extension button has been added to the Speed Dial side panel.
Opera 38 FINAL is available now as a freeware download for Windows, Mac and 64-bit Linux users. As of version 38, Opera now requires OS X 10.9 or later on the Mac.