Orlando shooting at Pulse nightclub prompts Facebook's first use of Safety Check in the US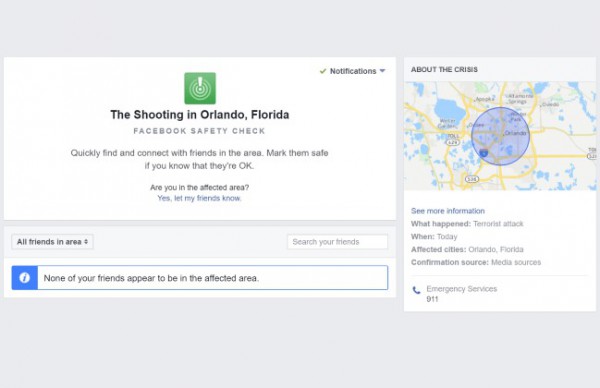 Following a massacre at the Pulse nightclub in Orlando, Florida, Facebook has been prompted to activate its Safety Check feature in the US for the first time. 50 people lost their lives in the attack on the LGBT nightclub.
Previously used following natural disasters around the world as well as a man-made tragedy, Safety Check gives people in a trouble spot to let friends and family know that they're OK. The deadliest mass shooting in American history ended up being the trigger for the first activation of the feature on US soil.
The tool also works the other way around, giving people who have friends and family who might be in the area to check up on them. Pay a visit to the Safety Check page for what is described simply as The Shooting in Orlando, Florida, and you can see if anyone you know is in the area. If you have travelled to Orlando, you can also use the page to let your loved one's know of your well-being.
Facebook says that it hopes "the people in the area find the tool a helpful way to let their friends and family know they're okay".
Police are currently investigating the terrorist act, which was committed by 29-year-old Omar Mateen.
To check up on loved ones, or to let others know that you're OK, head over to the Orlando Safety Check page.