Skype returns to Linux!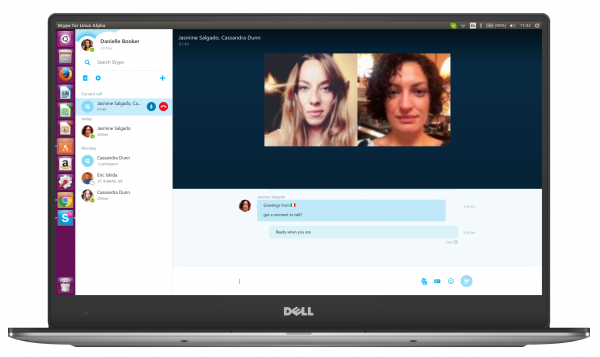 For a long time I was very high on Skype. As a Windows, Linux, and iOS user, its cross-platform nature made it a dream. Unfortunately, Microsoft started neglecting the Linux desktop client, causing it to become outdated from a design perspective and not entirely functional. I assumed the Windows 10-maker simply no longer cared about Linux on the desktop.
I assumed wrong. Shockingly, Microsoft announces a new Skype client for Linux -- currently in Alpha. In other words, Skype for Linux is back, figuratively speaking.  The company is pledging its support for desktop operating systems based on the open source kernel. Will Linux users embrace it?
"As you may have guessed by the name, Skype for Linux Alpha is not a fully functioning Skype client yet. We're sharing it with you now, as we want to get it in your hands as soon as possible. Once you've downloaded the app, you'll notice that it's very different from the Skype for Linux client you use today. For example, you'll be using the latest, fast and responsive Skype UI, you can share files, photos and videos and send a whole new range of new emoticons", says The Skype Team.
The team further says, "as we develop this new version of Skype for Linux, we need you to test, provide feedback and help us prioritize features. You will notice that with the Alpha version of Skype for Linux, which uses our next generation calling architecture, you will be able to call your friends and family on the latest versions of Skype on Windows, Mac, iOS and Android, but you won't be able to make or receive calls to and from the previous versions of Skype for Linux (4.3.0.37). Please do provide as much feedback as you can on Skype for Linux Alpha, so we can continue to improve call connections and reliability".
If you want to try the alpha, you can download the DEB or RPM here.
The Linux news does not end there, however, as Microsoft is also enhancing Skype on Chromebooks (Chrome OS is Linux, folks). By visiting web.skype.com on your Chromebook or Chromebox, you can now make voice calls -- including groups. This should be a godsend for small businesses that have bought into Google's web-focused desktop OS.
What do you think about Skype's renewed focus on Linux? Tell me in the comments.