Aegis Secure Key 3.0 [Review]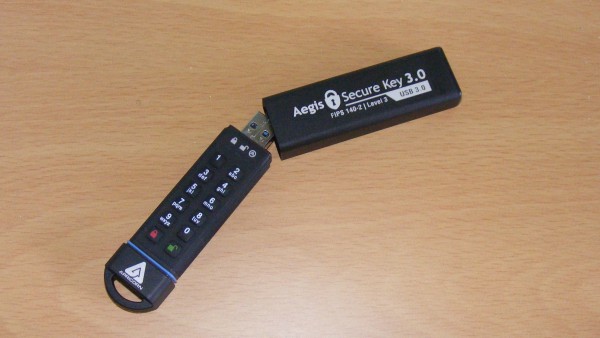 There are a number of secure flash drives on the market, but most of them rely on a software lock that requires you to enter a PIN on the computer after you've plugged in the drive. Apricorn takes a different approach with its Secure Key which has a keypad on the device itself, allowing you to lock and unlock it independently.
At 95.5 mm it's about half as long again as a normal flash drive and fits snugly into an aluminum slip case so you can't accidentally press buttons in your pocket. The keys are small but have a positive click action so you know they've been pressed. It comes formatted for NTFS ready for use on Windows systems and you can reformat it for Macs.
It's a USB 3.0 device so it can take advantage of fast transfers. Data written to the drive is encrypted on the fly using military-grade, full-disk AES 256-bit XTS hardware encryption. It's also FIPS 140-2 Level 3 validated, which means it meets the US government's standards for information technology and computer security used by federal agencies.
In Use
There's an onboard battery so you need to plug it in to a USB port for an hour or so when you get it to give it a charge. When you first use the device you need to set an admin PIN of between seven and 16 digits. It won't accept sequential numbers like 1234567 or all the same number. You can set up a separate user PIN allowing the device to be used by someone other than the administrator. The admin PIN can be used to reset the user PIN if required.
In locked mode the drive isn't recognized by the PC's operating system. You need to unlock it and plug it into a USB port within 30 seconds to access it. It then works just like any other flash drive, there's no software to install on the drive and the encryption process is transparent to the user. Once unplugged it will return itself to standby mode and automatically lock. Red, green and blue LEDs above the keypad indicate the status of the device and you get a clear instruction leaflet that explains how to set PINs.
Should it be lost or stolen it's designed to resist brute force attacks. If an incorrect PIN is entered more than 20 times the encryption key and all stored data on the device is destroyed. There is a hardware reset that allows you to override the PINs but doing that will also wipe out all of the data stored on the drive so it's safe to re-purpose it. There's a read-only mode which is ideal for use in forensic situations where the data needs to remain unmodified. The outer casing is dust and water resistant so it should survive the demands of everyday use.
The Secure Key 3.0 is available in seven different capacities from 8GB up to 480GB. Prices start at $99 for the 8GB version up to $399 for 480GB. That may seem a little pricey, but set against the possible cost to a business of losing sensitive data it's actually pretty reasonable. Add in the tough construction and ease of use and the Secure Key should appeal to any individual or enterprise looking to protect data on the move.
For full details and to buy direct you can visit the Apricorn website.