Opera VPN launches for Android, adds network security check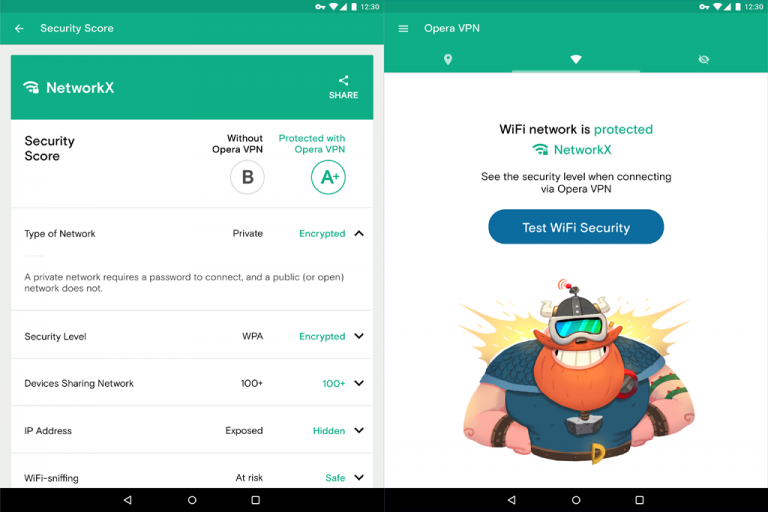 Three months after unveiling Opera VPN for iOS, browser developer Opera Software has launched Opera VPN 1.0 for Android. The Android build offers the same functionality as the iOS version -- secure VPN encryption to the web (with support for spoofing one of five countries), plus the blocking of both ads and tracking cookies. It also offers one extra feature not (yet) present in Open VPN for iOS: a tool for determining the security of the current network.
Virtual Private Networks provide users with a secure network connection over any internet connection, including insecure networks such as public Wi-Fi hotspots. VPNs can also be used to trick websites into believing the user is connecting from a different country to the one they're in, helping bypass geographic restrictions.
When launched, the app will instruct users to switch its VPN feature on. By default, this will set to spoof the US, but users can also choose to appear to reside in Canada, Germany, Singapore or the Netherlands. Once enabled, users can then hide Opera for VPN and use other apps, secure in the knowledge they'll be using the Opera VPN connection (verify this by checking the status bar for a key icon).
Note: VPN services have a noticeable lag to take into account the extra work required to encrypt and decrypt data. To help mitigate this, Opera VPN offers to block both ads and tracking cookies -- unlike the Opera web browser's ad-blocking tool, there are no options for whitelisting trusted sites, however.
The Android build has one unique feature: users can check the current network's security level, rated 'A' to 'F' based on a number of factors, including whether or not the connection is encrypted. Unsurprisingly, only Opera VPN secures the 'A+' rating based on the fact it protects against Wi-Fi sniffing and doesn't expose the user's IP address.
Users should also be prepared for the fact that VPN services are increasingly blocked by some network providers, so it may be necessary to disable the VPN when accessing certain websites or using selected Wi-Fi networks.
Opera VPN for Android 1.0 is available now as a freeware download for Android devices running Android 4.0.3 or later. Also available is Opera VPN 1.1.1 for iPhone, iPad and iPod touch running iOS 8.0 or later.