Why can't you open that EPUB?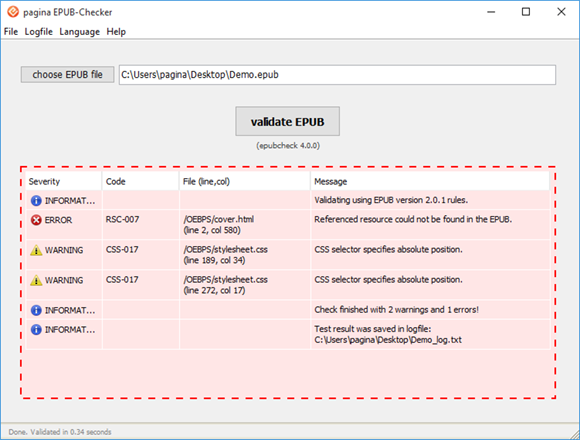 You've found an ebook you need, downloaded the EPUB, tried to open it, but your viewer won't display it properly. Or maybe at all.
You might assume it's the viewer, and try something else, but the problem could also be the file. A converter or publishing program might save something with an EPUB extension, but that doesn't necessarily mean it'll be a valid EPUB file.
Pagina EPUB-Checker can offer some clues by scanning EPUB ebooks for internal errors, and displaying any problems it finds.
The program is very convenient to use, just a single portable executable. Drag and drop your target EPUB file and any errors are listed in seconds.
The package is aimed at developers and other experts, and the problems it displays won't mean much to anyone else. How serious is this issue, for instance?
File listed in reference element in guide was not declared in OPF manifest: OEBPS/Text/contents.xhtml
We've no idea, either.
And yet, EPUB-Checker did prove occasionally useful, even to us.
We picked an EPUB which wouldn't display and found it had 63 errors; we tried again with one we could view, and there were only 3. Even if you don't look at a single error message, that's a strong indication that the fault is with the file. Knowing that we could stop searching for other readers and instead focus on finding another copy of the book, maybe in another format.
You could also use EPUB-Checker as a very simple way to assess the quality of EPUB converters. Run some test files through each, check the errors in each output EPUB and see how they compare.
That's not exactly a sophisticated metric, of course, because these errors won't be equally important (100 trivial issues might be ignored, a single major problem could crash a viewer). But if you need a way to measure EPUB "quality" then it's a simple way to start.
Pagina EPUB-Checker is a free application for Windows, Linux and Mac.