Windows 10 PCs powered by 7th gen AMD APUs and AM4 platform now shipping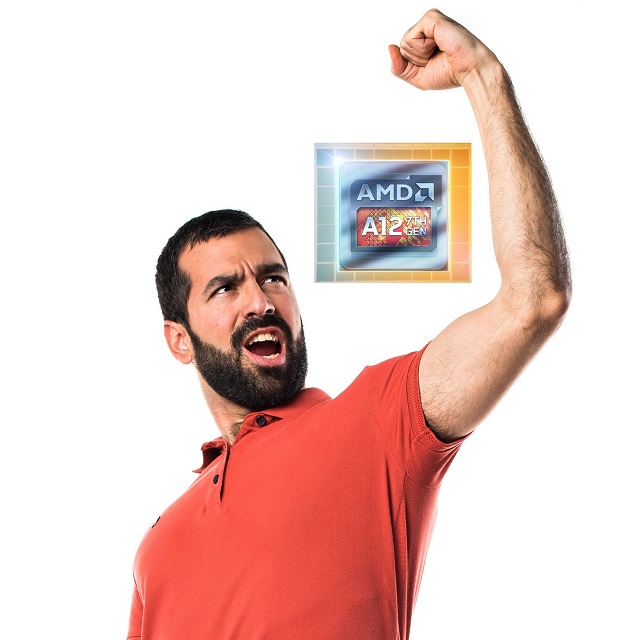 AMD makes very cost-effective and powerful processors. Even though some of its chips are a bit long in the tooth, gamers in particular can leverage them for a powerful machine without breaking the bank. Unfortunately, its AM3+ platform is lacking in some modern technology, such as DDR4 and PCIe 3.0. While DDR3 RAM is arguably still good enough, PCIe 2.0 is a bottleneck for modern NVMe SSDs.
Luckily, consumers won't have to wait long to get a desktop PC powered by AMD's latest 7th generation APU -- codenamed 'Bristol Ridge'. Windows 10 OEMs (Lenovo and HP only, for now) are finally shipping these AM4 machines, which feature DDR4 memory, PCIe 3.0, and more. Of course, as APUs, the systems will have solid graphic performance without the need for a dedicated graphics card. This paves the way for the even more-powerful Zen CPUs from AMD.
"Systems powered by 7th Generation AMD A-Series processors are productive, immersive, and energy efficient, with up to four 'Excavator' CPU cores. 7th Generation AMD A-Series desktop processors consist of 65-watt and 35-watt versions1, offering superior power efficiency and enabling flexible solutions in a wide variety of form factors. The new 7th Generation 65-watt A-Series processors deliver performance only realized at 95-watts with the previous generation. In addition, when compared to the Intel Core i5 6500, the new 65-watt processors offer up to equivalent productivity performance and up to 99 percent higher graphics performance", says AMD.
Kevin Lensing, Corporate VP and general manager of Client Computing at AMD explains, "the consumer release of these new HP and Lenovo designs is an important milestone for AMD on two fronts. First, it marks a major increase in productivity performance, streaming video and eSports gaming experiences sought after by today's consumers, delivered through our new 7th Generation AMD A-Series desktop processors. Second, because these new OEM designs also feature our new AM4 desktop platform, the motherboard ecosystem shows its readiness for our upcoming high-performance 'Summit Ridge' desktop CPUs featuring 'Zen' cores, which share the same platform".
While pricing and design is unknown, these machines should start appearing at retailers soon. Keep in mind, even though the processor is an APU with integrated graphics, you do have an upgrade path with the likely PCIe 3.0 x16 slot. In other words, an APU is a great way to save money up front while keeping your options open. While some Intel core processors feature integrated graphics too, they are nowhere near the performance of a top AMD APU.
Are you excited to see PCs with 7th gen AMD APUs and AM4? Tell me in the comments.
Photo Credit: Luis Molinero/Shutterstock