Moto G Play joins Amazon's ad-subsidized 'Prime Exclusive Phones' program for $99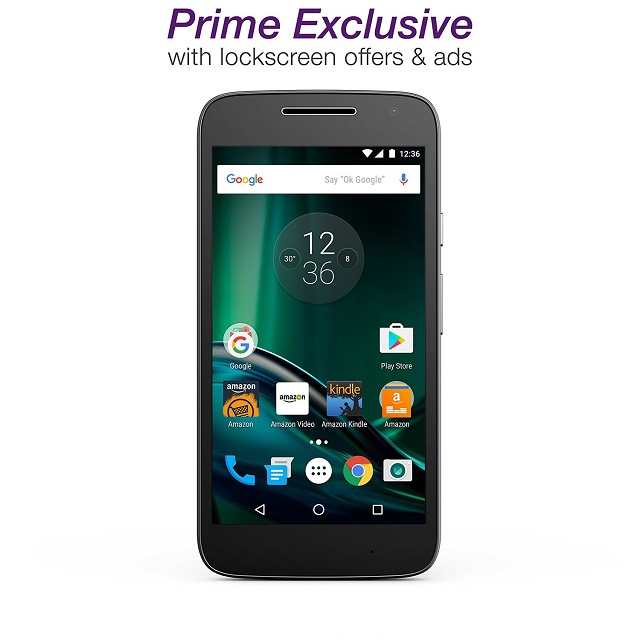 While many people hate advertisements, I actually like them. Why? Well, not only do they alert me to new products on the market, they subsidize a lot of content too. From television, to radio, to the web... ads make the world go around.
Amazon even leverages advertisements with its 'Prime Exclusive Phones' program. This allows consumers to get a discounted Android phone in exchange for seeing ads on the lock screen. It is a great way for shoppers to save money, while Amazon makes money from the ads -- win/win. Today, a new phone joins the program for a mere $99 -- the Moto G Play. It even works on all four of the major USA carriers, including Verizon!
"Since Amazon launched exclusive pricing for Prime members on new unlocked Android smartphones two months ago, the BLU R1 HD and Moto G have been the top two best-sellers in unlocked phones on Amazon. Starting today, Prime members have another Prime exclusive option to choose from with the newly launched Moto G Play -- at just $99.99, it's $50 off the full retail price,", says Amazon.
The online retailer further explains, "the new Prime exclusive Moto G Play features Android 6.0 Marshmallow with Google Mobile Services, including Google Maps, Gmail, YouTube, and Google Play. It boasts a 5 inch 720p HD display, Qualcomm Snapdragon 410 quad-core processor with up to 1.2 GHz, 2 GB RAM, and 4G LTE speeds. Customers can snap crystal-clear photos with an 8MP rear-facing camera that also features a fast f/2.2 aperture and a camera sensor that uses larger-than-average pixels, as well as a 5MP front-facing camera. Moto G Play also captures video at 30 fps in 1080p. It is available with 16 GB of internal storage, plus microSD card support for up to 128 GB of additional storage".
Wow, folks -- this is a killer deal. With the exception of the advertisements on the lock screen, it should offer a fairly stock Android experience. Fans of Google's operating system that want a pure experience should jump at the opportunity for an unlocked Moto device for less than a Benjamin.
While it is not a top-of-the-line flagship phone, it should meet the needs of many consumers. The processor should be decent enough for most tasks, such as web surfing, gaming, photography, and media playback. It would make a great first smartphone for someone, while also being a good option for experienced Android users too.
If you are interesting in buying it, you can pre-order it here now. Amazon will begin shipping it on September 15th.