Delayed Firefox 49 finally makes its bow, decommissions Firefox Hello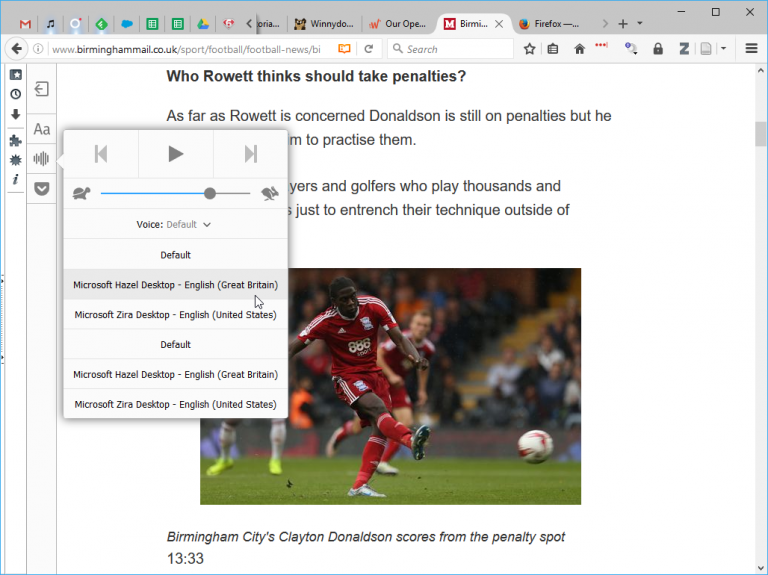 Mozilla has finally released Firefox 49 FINAL for Windows, Mac and Linux. The release has been held back a week due to the need to fix two 'blocker' bugs. The bugs -- which concerned loading Giphly embeds in Twitter, and slow scripts and unresponsive script dialogs when resuming Firefox -- have now been resolved.
Firefox 49 sees the new 'e10' multi-process architecture roll out to more users, plus improves Reader Mode with a new Narrate feature. Fans of the Firefox Hello chat tool will, however, be disappointed to learn that the feature has been decommissioned.
The biggest news is also the least undocumented. Mozilla is extending the release of its new multi-process architecture (codenamed Electrolysis or 'e10'). This promises greater security and performance -- up to 700 percent responsiveness when rendering large web pages, according to Mozilla.
The e10 architecture was first enabled on a tiny number of machines with the release of Firefox 48, and Mozilla plans to roll it out in stages as support is widened and new features added. Up to 50 percent of users with compliant add-ons should be enabled with the release of Firefox 49.
To verify the feature is enabled, type 'about:support' into the Address Bar and search for 'Multiprocess Windows' -- the figure should be higher than 0. If the feature is disabled and no specific reason (such as add-ons) given, users can opt in by opening 'about:config' and toggling the 'browser.tabs.remote.autostart' flag to true, then restart.
Elsewhere, Firefox 49 sees the end of Firefox Hello, Mozilla's chat tool. It points users to a number of alternatives while promising to develop and improve the underlying WebRTC technology.
Reader Mode gains the ability to read articles out loud -- a new Narrate icon appears beneath the font size and style button, allowing users to have the article read out at varying speeds with a choice of voices. Users also gain the ability to adjust the width and line spacing of text in Reader Mode.
Those using Firefox's Password Manager should find that the origin matching feature has been relaxed to allow saved logins for HTTP sites to be used on their HTTPS equivalents too as users migrate across to more secure web use. If users subsequently change the password for the HTTPS login, it won't be 'leaked' back to the less secure HTTP site going forward.
Both Windows and Mac systems without hardware acceleration should notice performance improvements with Firefox 49, while video performance has also been improved on non-hardware accelerated systems that support the SSSE3 instruction set.
Two further Mac improvements see better looking anti-aliased OS X fonts, while OS X users can now upgrade Firefox using administrator credentials even if they didn't originally install it.
There are improvements to HTML5 audio and video in the form of two new additional options on the context menu, namely play at 1.25x speed and loop playback.
Developers gain a web speech synthesis API while the Network Monitor gains a new 'Cause' column for tracing the origin of network requests.
System requirements have also been tweaked -- OS X 10.8 or earlier is no longer supported, while Windows users require a CPU with SSE2 processor support -- typically Intel Pentium 4 or later, or AMD chips introduced in 2003 or later.
Firefox 49 FINAL is available now as a free, open-source download for Windows, Mac and Linux.