Opera 40 unveils free VPN to secure web browsing, improves battery saver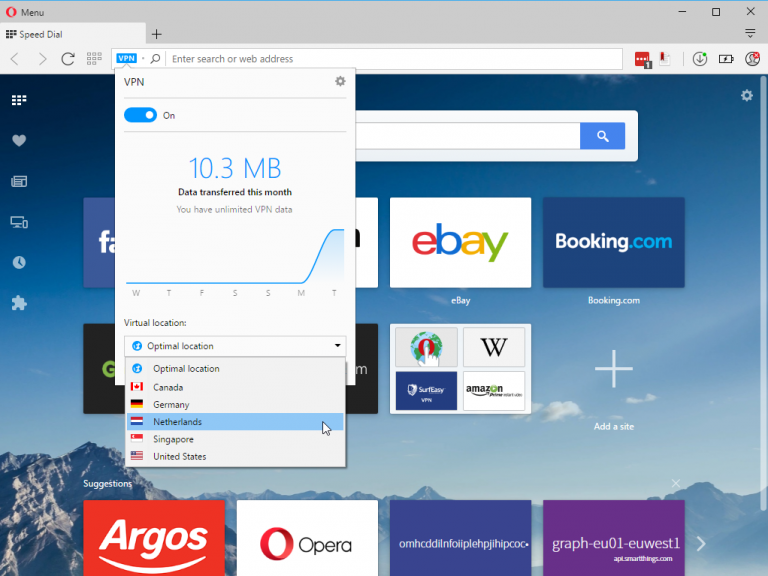 Opera 40 has been released, bringing an easy, convenient VPN feature to the masses. It's also reworked the battery saver tool, which was introduced in Opera 38, and adds RSS feeds to personal news.
The VPN server allows users to browse the web securely through an encrypted, tunneled connection on any network (including insecure Wi-Fi open hotspots). It also makes it possible to spoof the user's location, giving them access to otherwise geo-locked content.
Opera's VPN feature is free to use, but disabled by default -- open the Settings dialog and select 'Privacy & security', then tick 'Enable VPN'. Once enabled, a clickable VPN button appears in the Address Bar and users will automatically connect.
Configure the connection by clicking the VPN button -- a pop-up window similar to the ad-blocker will appear, with a simple on/off switch for enabling or disabling the service, a graph revealing how much data has been transferred over the connection, and a drop-down menu allowing users to switch from the 'optimum' location -- that which currently offers the fastest connection -- to a specific country.
This latter option allows for location-spoofing and currently supports five countries: US, Canada, Germany, Netherlands and Singapore.
One caveat -- the feature isn't compatible with Opera's data-saving feature, Opera Turbo. This feature re-routes user web page requests to special Opera servers that compress their content to reduce bandwidth and improve download speeds. Users should also be aware that VPN connections are slower than regular ones due to the extra work involved in securing them.
Opera 40 also revamps the battery saver tool, which Opera claims can extend battery life by up to 40 percent through various tweaks, such as reducing tab background activity, pausing plugins not in use and dropping video frame rates to 30fps.
These improvements see users able to choose when battery saver is implemented (look for a new 'Save battery automatically' option under Settings > Browser > Battery Saver), while an estimate of remaining battery is also provided on the Battery Saver flyout.
Other changes see users able to add their own custom RSS feeds to Opera's Newsreader feature. Click the 'Add Source' button, then paste the RSS feed URL into the 'Search catalog' box.
The video pop-out feature also gains support for more video sites and players, while the button itself has been redesigned to be less intrusive, and is disabled for short video.
Finally, Chromecast users will be pleased to learn that Opera now supports Chromecast -- install the Chrome extension from the Opera catalogue, then install the Google Cast extension.
Opera 40 is available now as a freeware download for Windows, Mac and 64-bit Linux users. As of version 38, Opera now requires OS X 10.9 or later on the Mac.