KC Softwares unveils 'Wi-Fi troubleshooter' dot11expert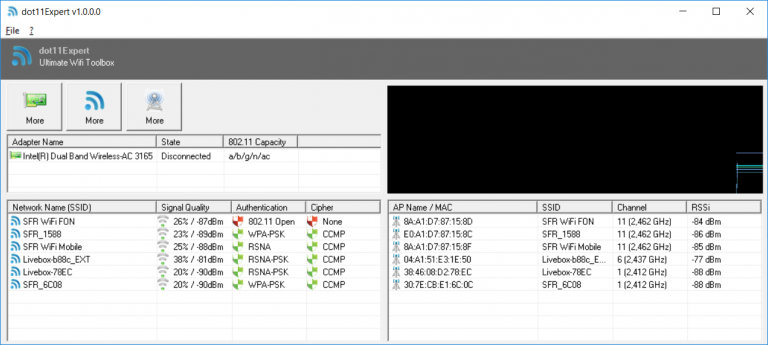 SUMo and KCleaner developer KC Softwares has unveiled its latest project, Wi-Fi troubleshooting tool dot11expert. The package displays low-level details about your network adapters, local wireless networks and access points: signal quality, SSID, MAC address, channel, authentication and more.
A separate graph plots the signal strength of all detected networks.
The developer claims to also provide "deep statistics about network adapters", which mostly means you get to see the raw MAC and PHY layer stats for each adapter: transmitted and received frame counts, single and multiple retry details, RTS and ACK failures, and more.
Dot11expert has some obvious issues. The signal graph has the usual color-coded traces, for instance, but no captions or key to tell you which networks they represent.
The program is missing any save or export options. You can't save its tables as text reports, copy items to the clipboard or anything else.
Finally, a portable version doesn't seem to be available yet, although there is a workaround. Install the program, copy the core dot11expert.exe file to a USB key and you can run it directly on other PCs.
Overall, there's plenty of work to be done, but that's to be expected with a new release, and if you're a fan of the developer -- or just need some stats on local Wi-Fi -- dot11expert may be worth a quick look.
Dot11expert is a free tool for Windows XP and later.