Google Wifi reinvents the wireless router -- but does it need reinventing?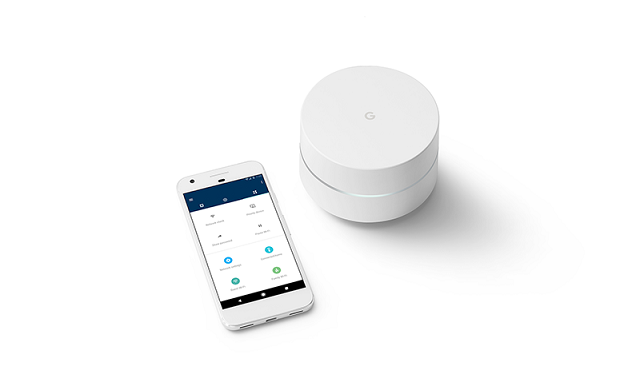 When wireless routers first went mainstream they felt like magic. Connecting your laptop to the internet without a cable? Amazing. As time marched on, routers became more impressive, getting longer range and faster speeds. Nowadays, there are many affordable routers on the market, and many consumers are happy with them.
Apparently, Google thinks the router needs to be reinvented, as today it announces the unimaginatively named "Wifi'. Yes folks, that is what the search giant came up with as the name for its Wi-Fi router. This product is special, as it is very easy to set up and multiple units can be connected to blanket a large area in mesh wireless internet. Its small stature should make it a good fit in any room too.
"Google Wifi was designed from the ground up to support the new ways we use Wi-Fi. These days, Wi-Fi has to be able to support lots of devices at the same time, and stand up to high-bandwidth activities like streaming video or gaming -- in every room of your house. Google Wifi is an expandable system, so for larger homes, you can simply add Google Wifi points. They connect to one another and spread a strong network signal to every room", says Ben Brown, Senior Product Manager, Google.
Brown further says, "for those times when you do want more control over your network, Google Wifi makes it simple through a companion app, available on Android or iOS. The app lets you do things like pause Wi-Fi on kids' devices . It also shows you which devices are connected and how much bandwidth they're using and lets you prioritize devices within your network so you can stream that latest episode uninterrupted. Google Wifi was designed with user privacy as a top priority".
ALSO READ: Pixel and Pixel XL are Google's iPhone killers
Managing a router through a web browser can be a confusing affair, so Google is smart to offer an app instead. Many consumers never monitor their home network which can be dangerous. The search giant is increasing visibility and empowering owners to gain control.
Automatic security updates will limit security exploits, making this a very secure device. Many manufacturers neglect firmware updates for routers, leaving them in vulnerable states. Not so with Google Wifi.
While the magic of Google Wifi is the ability to connect multiple units for a mesh network, let's be honest -- not everyone needs that. In fact, many folks are getting by fine today with a single access point. With that said, the router is aggressively priced at $130 (a 3-pack is $300), so even if you only need a single router for a small home or apartment, it should make a very good choice.
The only downside is the paltry amount of Ethernet ports -- two are found here, while four is typically the standard for most routers. With that said, this thing is so tiny, that it probably cannot accommodate more.
Google shares the following specs.
Connectivity: AC1200 2x2 Wi-Fi, Two Gigabit Ethernet ports
Color and Material: White, plastic
Security WPA2-PSK
Memory: 512MB DDR3L,  4GB eMMC flash
Processor: Quad-core CPU
Power: 15W power adapter
Dimensions and Weight:  4.17 in diameter, 2.70 in height
So, does the wireless router need reinventing? You know what? Maybe it does. While performance of current products is passable, Google should be commended for pushing the envelope and increasing the focus on security. This evolution of third-party OnHub offerings seems amazing. If you need a router, why not this one?
Ready to order it? While pre-orders will not begin until November, you can join the wait-list here now.