Toshiba announces WiGig Dock with USB Type-C and 4K video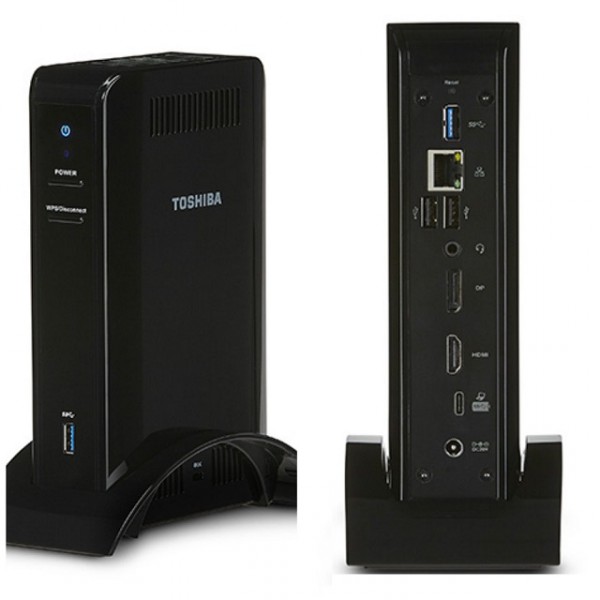 WiGig is really impressive technology -- wireless docking can feel like magic. Imagine connecting your laptop to a USB keyboard, mouse, Ethernet, monitor, and more without wires. Yeah, a WiGig dock can do that. You might expect the connection to be iffy -- lag from peripherals or stuttering video. Actually, in my experience, it works flawlessly -- you can't tell that it is wireless.
Today, Toshiba announces the unimaginatively named 'WiGig Dock'. It features some essential connections -- 2 x USB 3.0, 2 x USB 2.0, gigabit Ethernet, 3.5mm audio, DisplayPort, and HDMI. It also has a USB-C port for connecting machines that do not support WiGig. In other words, it can be either a wired or wireless docking station.
"For users looking for additional screen real estate, the Toshiba WiGig Dock can accommodate up to two additional displays with high definition resolutions and in some cases even 4K. Through Intel's Wireless Display Extension (WDE), the Toshiba WiGig will deliver resolutions of 2560x1600 (FHD) for single display or 1920x1200 (HD) for dual display in WiGig mode. When connected via the USB Type-C port users can expect 3840x2160 (4K) for a single display or 1920x1200 for dual displays", says Toshiba.
The company further explains that the dock "features Toshiba's USB Sleep and Charge technology where devices can be charged even when a laptop is not connected to the dock. For convenience, Toshiba placed one of the two USB 3.0 ports on the front of the dock so devices can be easily plugged in and unplugged. This combination of connectivity and performance positions the Toshiba WiGig Dock as a premium wireless docking solution".
If you want to buy it, please know that it does not come cheap -- the Toshiba WiGig Dock is an expensive $299. Since it is enterprise-focused, it will not be found at typical retailers either. Instead, it can be had from Toshiba directly or from CDW.