ScreenWings prevents malware capturing your screen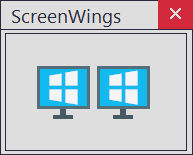 ScreenWings is a free Windows tool which prevents malicious software capturing your screen.
The program is convenient to use. There's no drivers or services involved and it doesn't require installation, so you can run it from a USB key whenever necessary. The interface is equally basic: a small gray window with a close button and an icon of a monitor (if you've two or more monitors you'll get an extra icon for each one). That's it. At this point, you don't even get a minimize button.
When you're ready to disable screen capture, click the screen icon representing the target monitor. It turns black, telling you that other apps will no longer be able to "see" your screen. The top-right "close" button turns to an arrow, and clicking this minimizes ScreenWings to your system tray.
We tried various screenshot tools with this protection active, but while they seemed to work as normal, the images were solid black. No snoop-worthy content at all.
The news wasn't so good when it came to ScreenWings' memory use. While this started low-ish, around 12MB, after testing we found this could be anything up to 175MB. Presumably the program is allocating some RAM to do its work, but doesn't release it immediately, either due to a bug, or because it can't (the RAM is being referenced by something else). It doesn't seem to keep on increasing, so we don't think it'll eventually crash the system, but if you're short on RAM anyway it could be a problem.
The other complication here is that ScreenWings doesn't just block malicious software -- legitimate applications won't be able to capture screens, either. Even pressing PrtSc or Alt+PrtSc will only get you the same plain black bitmap.
You could restore normal operations by double-clicking the ScreenWings icon, and single-clicking the black screen. Not difficult, but annoying if you have to do it often, and of course disabling the program gives a chance for malware to capture the display.
While this could definitely be a hassle, it's arguably a plus for the program. If you're genuinely concerned about others seeing what's on your screen, is it really a good idea to copy its image to the clipboard, making it instantly accessible to every other application on the system? The ScreenWings "block everything" approach is extreme, but if privacy is important then it's also the best option.
On balance, ScreenWings isn't for the average user. It's also not something you'd run on its own, because there are many additional tricks a monitoring package could use to figure out what you're doing. But if you're an expert, already running some anti-keylogger or other privacy tools, it could be worth including in the mix. Take a look.
ScreenWings is a free application for Windows 7 and later.