NETGEAR Nighthawk X10 AD7200 802.11ad Smart WiFi router (R9000) supports Plex and Amazon Drive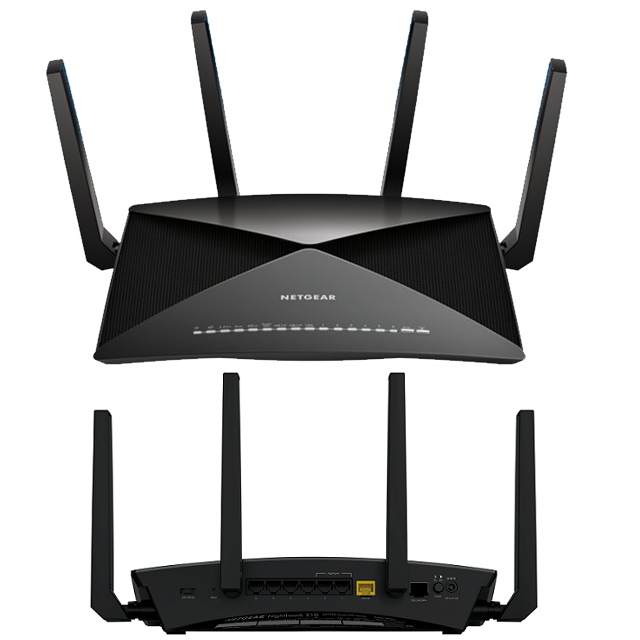 When buying a wireless router for your home, there are many models to choose from. If you have basic needs in a small home, such as surfing the web or watching Netflix at 1080p, you can easily get by with an inexpensive router for, say, under $100. For those with more advanced needs, like streaming 4K and sharing large files between computers on the network, or those in large homes requiring greater range, prices for more capable routers can skyrocket.
While you don't always have to spend obscene amounts of money on technology, a wireless router is definitely not the place to try and save a buck -- you should always aim for quality products from reputable brands. Today, once such trusted company, NETGEAR, announces the Nighthawk X10 AD7200 smart WiFi router. On paper, it looks like one of the greatest home routers ever. Of course, with such cutting-edge technology like 802.11ad, it carries a very hefty price tag.
"The Nighthawk X10 Smart WiFi router combines a powerful 1.7GHz Quad Core processor -- the fastest processor in a home router -- and Quad-Stream Wave 2 WiFi architecture plus next generation high speed 802.11ad WiFi, so you can enjoy blazing-fast combined wireless speeds up to a furious 7.2Gbps. The latest MU-MIMO technology supports simultaneous streaming, while 160MHz doubles WiFi speeds to mobile devices. Four patent-pending external Active Antennas amplify Nighthawk X10 WiFi signals to maximize range and throughput", says NETGEAR.
The company further explains, "Nighthawk X10 is also the industry's first router designed for the home market that includes a 10Gigabit port, which supports a fiber connection. Offering lightning-fast backup and streaming from Network Attached Storage devices -- such as NETGEAR ReadyNAS -- Nighthawk X10 is the ideal solution for personal HD video collections. The two USB 3.0 ports make it easy to add storage for backup and file transfer over WiFi. Additional storage options with the Nighthawk X10 includes six months of free unlimited Amazon Drive backup for an off-site cloud copy of one's files".
It is important to note that 802.11ad is a very limited wireless standard. While it is faster than 802.11ac, its range is abysmal -- it is designed for use in the same room as the router, while also requiring a client-side card. In other words, while 802.11ad is cool, the less-sexy features of the Nighthawk X10 AD7200 such as the 1.7GHz Quad Core CPU and 160MHz capability are arguably the more important aspects. Of course, this router also does 802.11ac, so you will get long range using that.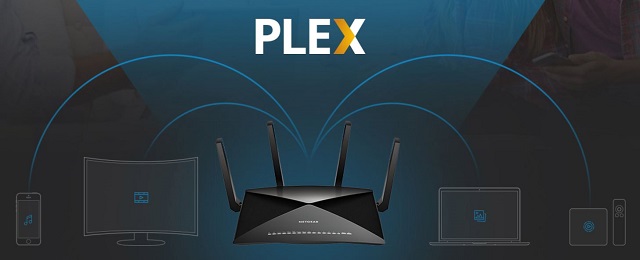 The integrated Plex Media Server support will make sharing media to your devices -- such as Apple TV and Xbox One a dream. Amazon Cloud backup capabilities can help you to keep your files safe and secure -- hopefully the feature, if easy enough to use, can motivate more folks to backup their files. The complimentary, albeit limited-time, subscriptions to Amazon Cloud (6 months) and Plex Pass (3 months) are icing on the cake.
NETGEAR shares the following specifications
WiFi Performance
AD7200 WiFi (800 + 1733 + 4600)
Band 1: 800 Mbps @2.4GHz – 256QAM
Band 2: 1733 Mbps @5GHz – 256QAM
Band 3: 4600 Mbps @60GHz – SC
Explicit Beamforming for 2.4 & 5GHz bands
Seven (7) 10/100/1000 Mbps Gigabit Ethernet ports (1 WAN & 6 LAN)
Dual Gigabit Ethernet Port Aggregation
802.11ac Quad-Stream Wave2 WiFi plus 802.11ad WiFi
Plex Media Server—Stream your media on all your devices
Powerful 1.7GHz Quad-Core processor
MU-MIMO Simultaneous streaming of data for multiple devices
Amazon Drive cloud back up
ReadyCLOUD USB Access—Personal & secure cloud access to USB storage anytime, anywhere
ReadySHARE Vault—PC software for automatic backup to USB hard drive connected to the router
DLNA Server—Find & play your media on TVs & game consoles
VPN support—Secure remote access to your home network & Internet
Enhanced Parental Controls—Manage web filtering & accessibility by profiles or devices
NETGEAR genie home network manager includes remote access to manage your network away from home
NETGEAR Up app — Easily set up, update, and configure your router
Open source software available
IPv6 Support (Internet Protocol Version 6)
On/Off LED light switch
Customized free URL to set up personal FTP server
VPN support—secure remote access
Guest network access—separate & secure
WiFi Protected Access (WPA/WPA2—PSK)
Double firewall protection (SPI and NAT)
Denial-of-service (DoS) attack prevention
Powerful Quad-Core 1.7GHz processor
Memory
512MB NAND flash and 1GB DDR3 SDRAM
Physical Specifications
Dimensions: 8.81 x 6.61 x 2.91 in (224 x 168 x 74 mm)
Weight: 4.11 lb (1865 g)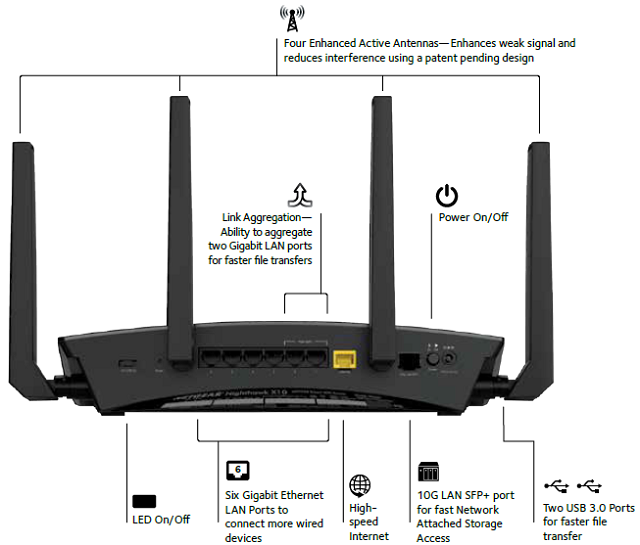 As I stated earlier, this router does not come cheap. So, how much does it cost? It is available today at various retailers for $499. Yes, that is more expensive than some people's computers. With that said, buying a quality wireless router such as this -- chock full of great features -- is an investment. Look, computers, tablets, and other devices will come and go, but this router should last many years, supplying internet connectivity to them all.