Live from New York, it's the BetaNews live blog of the Microsoft Windows 10 event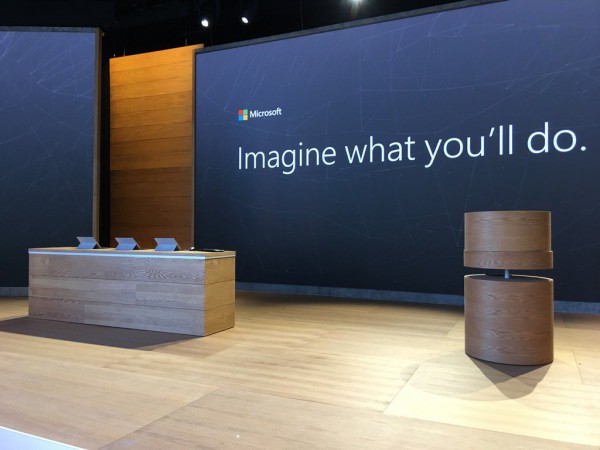 Today is finally the day -- Microsoft's annual Surface event. This year is quite different, however, as rather than new portable machines, the company is rumored to unveil a new Surface-branded all-in-one desktop.
I am here, live, at a secret location in NYC where I will be live-blogging all the news along with my thoughts -- just keep refreshing. Of course, you can also watch the live video here too.
Live Blog
10:00am -- Microsoft is playing a motivational video, showing how Windows 10 helps people with disabilities. It is refreshing to see the company improving people's lives with Windows.
10:03am -- Terry Myerson takes the stage. He is highlighting that Windows 10 is a great tool for creativity.
10:05am -- Microsoft is sharing stories of Windows 10 fans, and how they use technology to improve the world. The company seems very passionate about its customers. Nice!
10:06am -- HoloLens is shown as a creativity tool.
10:07am -- Myerson is showing the diversity of Windows 10, as it can help people with all sorts of needs and wants.
10:07am -- Over 600 million people are using Windows 10.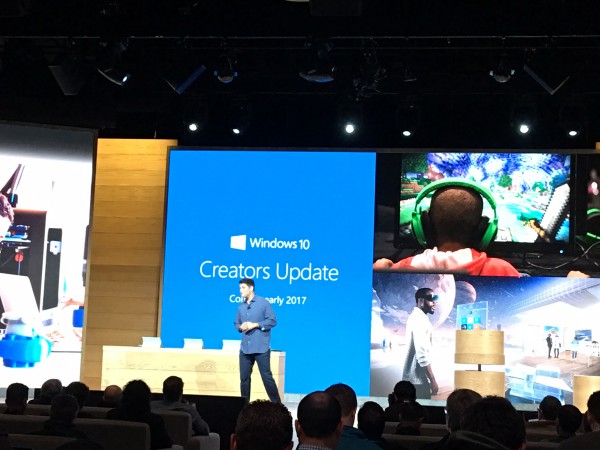 10:10am -- the next major update of Windows 10 is called "Creators Update", coming in 2017.
10:13am -- Microsoft plays a video focused on 3D.
10:14am -- Megan Saunders takes the stage. She explains that "3D is for everyone".
10:15am -- A video plays that shows how easy 3D creation will be on Windows 1o Developers Update. Looks like the next version of "Paint".
10:17am -- Saunders explains that 3D creation must be easy. She is going to take a 3D photo of a sand castle. She walks around it and scans it -- it is AMAZING.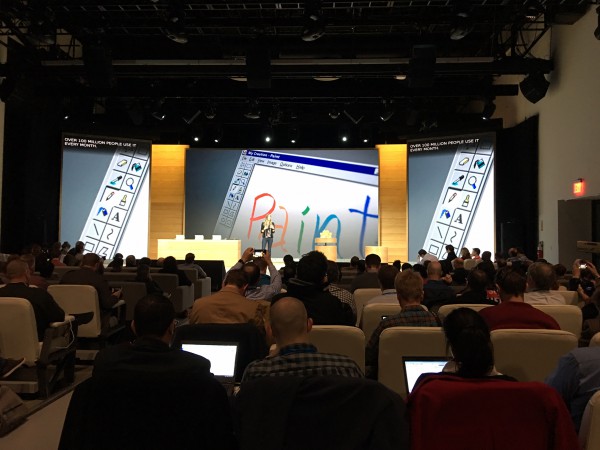 10:20am -- Paint 3D is official!
10:21am -- This is very impressive 3D creation, folks! Very easy to create 3D content.
10:22am -- You can export and 3D print Minecraft creations from Windows 10 Creators Update.
10:23am -- Microsoft is partnering with SketchUp, bringing community-created 3D images to Windows users. This is sort of like 3D clip art.
10:26am -- Saunders  uses Paint 3D to create 3D content, which can be easily shared to Facebook.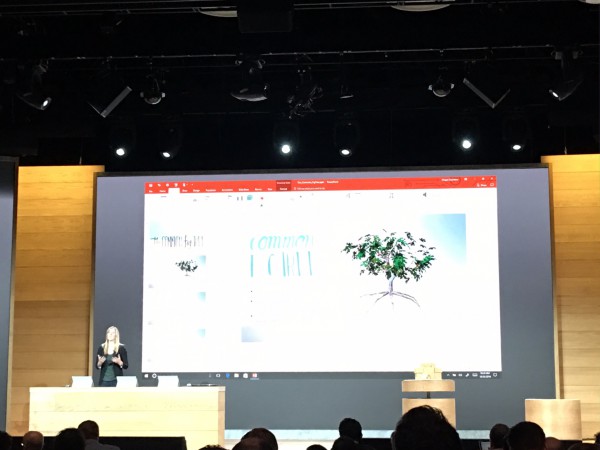 10:27am -- Microsoft is showing how 3D can be used with PowerPoint to enhance presentations.
10:30am -- Taj Reid takes the stage wearing HoloLens. 3D images can be viewed with the headset.
10:32am -- HoloLens can be used to see how furniture (like chairs) will look and fit in your home.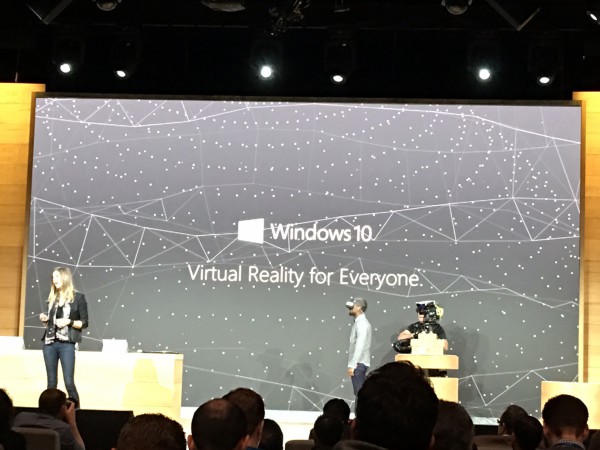 10:34am -- Microsoft is making "Virtual reality for everyone". HoloLens can transport users to places around the world.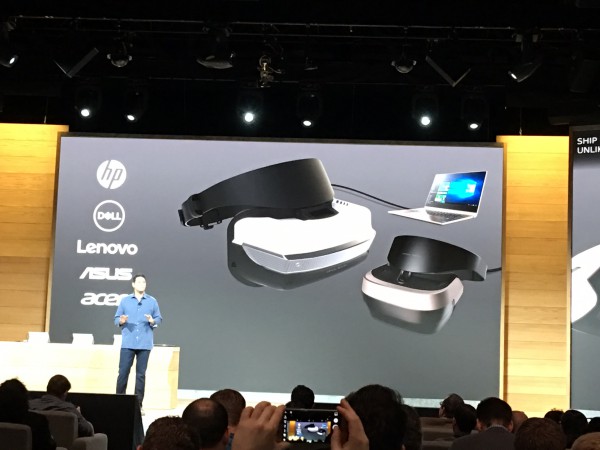 10:38am -- Windows 10 Creators Update will be compatible with VR masks priced at $299 and up from popular Windows OEMs.
10:40am -- Time to discuss gaming. Jenn McCoy takes the stage.
10:43am -- Windows 10 CU will have native game broadcasting (Powered by Beam), so users can stream video of themselves playing games online. It is very easy to use, taking intimidation out of the equation.
10:47am --  Windows 10 CU gamers can easily setup customized gaming tournaments.
10:50am -- Xbox One is getting Dolby Atmos audio support.
10:53am -- Windows 10 CU gets faster and easier sharing -- drag and drop to your favorite people. It is insanely convenient and easy to use.
10:56am -- Windows 10 CU makes it easier to aggregate multiple communication platforms -- Skype, SMS, Email, etc.
11:01am -- early builds of Windows 10 CU will be made available to Insiders later this week.
11:03am -- OMG. New device announcement coming...
11:05am -- Panos Panay takes the stage!!!
11:12am -- Surface Book i7! Three times more powerful than the top MacBook Pro, 2X graphics of previous top Surface Book, 30 percent longer battery life!
11:14am -- 16 hours battery life.
11:15am -- $2,399 price.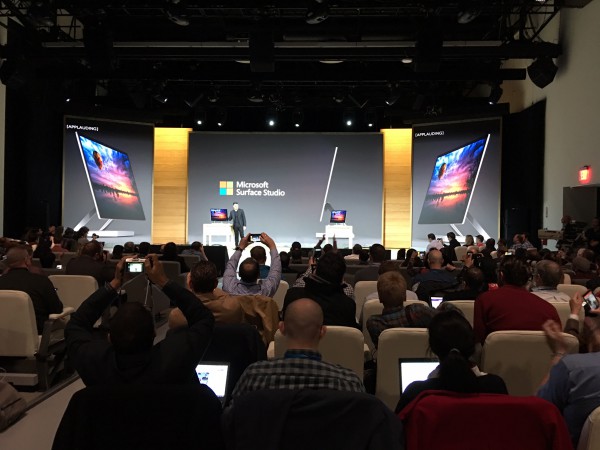 11:17am -- Surface Studio! and Surface Dial!
11:20am -- Surface Studio is housed by forged aluminum -- thinnest LCD monitor EVER. 28-inch 3:2 screen. 13.5 million pixels. TrueColor technology gives vibrant colors. DCI-P3.
11:27am -- Studio has "True Scale", so what you see on the screen in Word will match up to a standard 8.5" x 11" paper.
11:30am -- Linear mic array means you can summon Cortana from across the room. Studio HD Camera works with Windows Hello.
11:38am -- Wow. Surface Studio can lay at 20 degree angle with 'Zero Gravity" hinge. Surface Dial sits on the the screen and allows on-screen interaction. Amazing.

11:45am -- Surface Dial will work with all Windows PCs for the scroll functionality. On-screen interaction is a Surface Studio exclusive.
11:55am -- pre-order it here, starting at $3000. Quantities will be very limited.
11:58am -- Satya Nadella takes the stage with some motivational words about Microsoft.
12:05am -- It is over. What do you think of the products?