AWS more popular than Microsoft, Google and IBM's clouds combined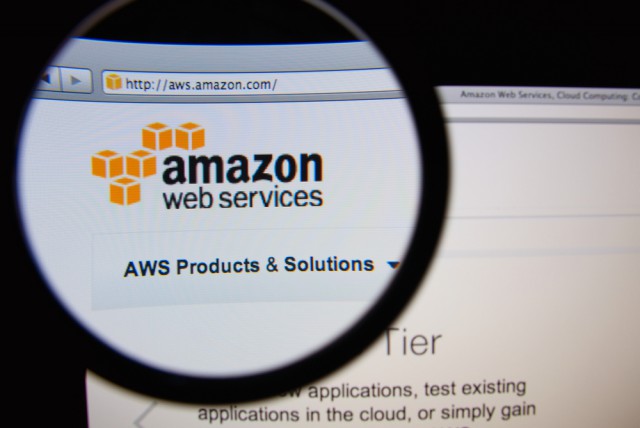 Amazon Web Services is the undisputed leader in the public cloud market, with a market share larger than the next three competitors -- Microsoft, Google and IBM -- combined, according to a new report from Synergy Research Group.
In Q3 2016, AWS had a share of around 45 percent in the public IaaS (infrastructure as a service) market, while Microsoft's Azure, Google's Cloud and IBM's cloud did not even get past the 20 percent mark.
Things are expected to change in the future, as Microsoft and Google have higher growth rates in this space as AWS. So, we can expect to see their cloud offerings to eat away at AWS' share, though there is no projection as to when things will even out.
In the public PaaS (platform as a service) market, AWS is not in as strong a position. Its market share sits just over the 30 percent mark, while the next three largest players -- Salesforce, Microsoft and IBM -- claim slightly more. There are no exact numbers provided, only a bar chart, which is available below.
Synergy Research Group has also looked at the managed private cloud sector, revealing IBM to be the market leader with a share of about 15 percent. AWS, Rackspace and NTT are the next three-largest players, with a combined market share of around 20 percent.
In the report, there is another tidbit worth mentioning: Amazon, Google, IBM, and Microsoft "control well over half of the worldwide market and all continue to grow their market share". This means that it will be tougher for smaller cloud providers to make their mark as things evolve -- and even survive in this market, where the barrier of entry is lowered frequently by the leaders, which have enough resources to sustain their cloud push.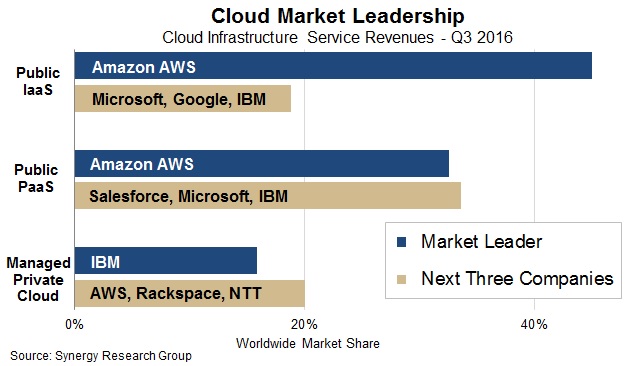 "Scale is the name of the game, especially in the public cloud markets. Amazon, Microsoft and Google continue to invest huge amounts in their hyperscale data center infrastructure, and all three have recently expanded their data center footprints and also announced plans to open up more geographic regions in the coming months", says John Dinsdale, a chief analyst and research director at Synergy Research Group.
"This scale is the prime reason why they are able to gain market share and pressure smaller players into consolidation or refocusing their cloud activities. Some tier 2 players are looking to buck the trend and at least some are seeing particularly strong growth, including Alibaba (particularly in IaaS) and Oracle (in PaaS)", adds Dinsdale.
Synergy Research Group adds that cloud revenues (from public IaaS and PaaS as well as managed private clouds) exceeded $8 billion in the third quarter of 2016. The annual growth rate is said to be 50 percent. Public PaaS enjoys the highest growth rates, but it public IaaS which is the largest market in the cloud.
Photo Credit: Gil C / Shutterstock.com