Microsoft launches Teams -- and Slack is worried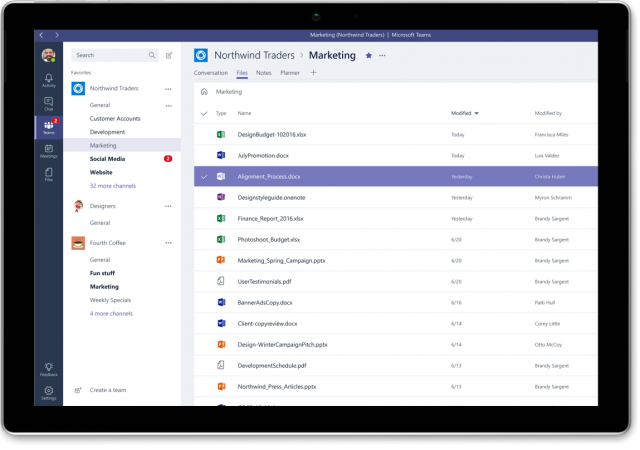 It is no secret that Microsoft has been working on a Slack rival, but it is not until today that we get to take a proper look at the new collaboration tool. Called Microsoft Teams, it will officially launch in the first quarter of 2017, though the software giant is making it available as a public preview starting today. Should you give it a try?
The benefit to Microsoft Teams, as the software giant explains it, is the integration with some of its most important products and services, like Office 365 and Skype, to help users collaborate more easily on different projects. You also get support for services like GitHub and Twitter and different security features, but those are also available in other collaboration tools -- like Slack, for instance.
The real-time chat functionality is basically a given in any modern collaboration tool, and there is not much here worth mentioning other than the fact that you get both public and private conversations, and that you can always invoke Skype to have video chats with fellow team members.
The Microsoft services and products integration is more interesting though. You get Word, Excel, PowerPoint, SharePoint, OneNote, Planner, Power BI and Delve. Microsoft Teams is said be backed by Microsoft Graph and built on Office 365 Groups, which should make for an enterprise-ready experience.
The out of the box experience is backed by customization through extensions and open APIs, so that Microsoft Teams can be tailored to suit a team's preference. There's even Microsoft Bot Framework support to aid in this regard.
Microsoft is working with a large number of developers to have plenty of integration options available to Microsoft Teams users come general availability, saying that it has over 150 partners working on making various product and feature integrations available.
Microsoft has not forgotten about something enterprises care deeply about -- security. So, Microsoft Teams data is encrypted in transit and at a rest and with compliance in mind. "Microsoft Teams will support key compliance standards including EU Model Clauses, ISO 27001, SOC 2, HIPAA and more", says Microsoft. It can be managed "just like any other Office 365 service".
Even before Microsoft got the chance to properly introduce Teams, Slack showed signs of concern about its latest rival, going as far as to publish as full-page ad in The New York Times to give the software giant some "friendly advice" about how it should handle Microsoft Teams.
Slack is among the most powerful and popular players in this segment, but when a company as enterprise-friendly as Microsoft makes a play Slack has every reason to be worried about its future. Only time will tell how this will play out, but one thing is for sure: competition in this space will only benefit us.
We are big fans of Slack here at BetaNews. We like the service and what it has to offer, and we use it every day to chat and share things. For a team such as ours, it remains the best fit. But, what about you, what are your plans regarding Microsoft Teams?