G.SKILL unveils insanely fast 3600MHz Trident Z DDR4 64GB RAM kit


While many people buy pre-assembled PC gaming machines nowadays -- including diminutive mini variants -- there is still much to be said for building your own computer. Selecting your processor, chassis, PSU, and memory can be extremely rewarding. You get the opportunity to create your vision, and sometimes it can be more cost-effective too.
Today, G.SKILL unveils some system RAM which should make PC builders absolutely giddy. The company's latest member of the Trident Z family is a four-module 64GB DDR4 kit. What makes it so special? It can run at an insanely fast 3600MHz!
"G.SKILL International Enterprise, is thrilled to announce DDR4 64GB(4x16GB) memory kit at extreme speed of 3600MHz CL17-19-19-39 1.35V. Featuring high performance Samsung 8Gb ICs, this new memory kit is the fastest DDR4 64GB(4x16GB) kit and will join G.SKILL's flagship Trident Z family", says G.SKILL.
ALSO READ: HyperX releases 'ALLOY FPS' Cherry MX Blue mechanical LED backlit gaming keyboard
The memory-vendor further says, "with heavy content creation workloads and the complexity of modern PC games, the need for higher capacity memory kits is growing dramatically in the enthusiast PC community. The 3600MHz 64GB(4x16GB) kit provides an ultimate combination of capacity and speed, which makes it an ideal choice for building an extreme performance PC. The following screenshot shows rigorous test of the new memory kit, validated with the Intel Core i5-6600K processor and the ASUS Z170-DELUXE motherboard".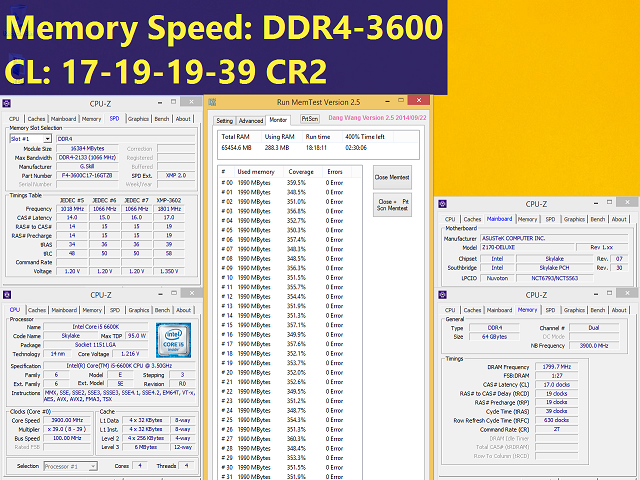 As you can see above, not only is the 3600MHz Trident Z DDR4 64GB RAM kit fast, but stable too. Gamers in particular should go gaga for this G.SKILL product, but non-gaming power-users should appreciate it too. Even less-experienced builders should be OK, as XMP 2.0 is supported for easy setup in BIOS.
If you want to buy this jaw-dropping RAM kit, it can be yours next month (December) -- just in time for the holidays. Unfortunately, pricing is not yet known.