SoftwareOK unveils MultiClipBoardSlots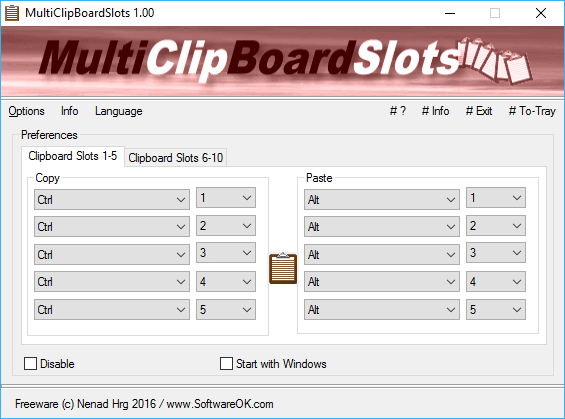 Freeware developer SoftwareOK has released MultiClipBoardSlots, a lightweight clipboard extension for Windows.
The program extends Windows with up to ten clipboards. You're able to copy to any slot with Ctrl+<slot number> without overwriting anything else, and paste from it with Alt+<slot number>.
This works with text, images, Explorer files and folders and anything else you might normally pass through the clipboard.
MultiClipBoardSlots is extremely configurable. You can enable or disable individual slots, customize their hotkeys, or choose to play an audio alert for copy and/ or pasting operations (handy as reassurance that everything is working correctly).
The program can also be set to stay out of your way, minimizing to the system tray or running entirely hidden.
None of this blocks or alters regular clipboard operations, and so shouldn't cause any conflicts, but if you run into problems MultiClipBoardSlots can be turned off in seconds.
MultiClipBoardSlots is available now for anything from Windows NT up, apparently.