ZOTAC VR GO is a Windows 10 backpack PC powered by Intel Core i7 and NVIDIA GeForce GTX 1070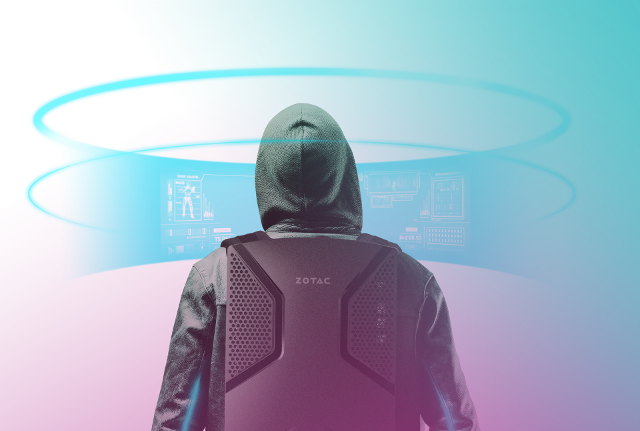 Virtual reality is rather cool, although it requires money and commitment. To truly experience VR on a PC, you need a powerful computer and, sometimes, a room to be dedicated to it too. After all, the VR mask usually has to be tethered to the desktop PC -- a messy experience, leading to tangled wires. Sadly, it is these wires that really limit the fun of VR on PC.
Thankfully, some PC manufacturers have wisely created backpack computers -- a PC designed to be worn on the user's back. This creates greater mobility while experiencing VR, although it does have the downside of requiring batteries (which ultimately need charging). Today, ZOTAC unveils a new backpack PC, and it looks amazing. Called 'VR GO' it is equipped with two 6600 mAh batteries, allowing up to two hours of game play. You can buy additional batteries and swap them for even longer gaming sessions, however.
"The ZOTAC VR GO is designed for a truly mobile VR experience. From hardware to comfort, every detail is considered. VR GO provides powerful yet efficient performance with an NVIDIA GeForce GTX 1070 graphics and Intel Core i7 processor. Hardware and thermal design enable marathon playtime with comfort and minimal noise. Securing the backpack with both chest and waist straps, users can move freely in the other world", says ZOTAC.
The manufacturer also shares, "systems are usually designed to be placed away from the user, where it is meant to be connected to devices that are placed at arm's length. The VR GO breaks the tradition, and sets the standard for wearing a device with full desktop capabilities. To maintain comfort levels, the exhaust heat is channeled away from the user and dedicated paths on the back support allow the body to breathe and stay cool during extended sessions".

ZOTAC shares the following notable specs.
Processor: Intel Core i7-6700T (quad-core, 2.8 GHz, up to 3.6 GHz)

System Memory: 16GB DDR4 SODIMM

Graphics Engine GeForce GTX 1070 8GB GDDR5 256-bit
Video Output: 2 x HDMI 2.0, 2 x DisplayPort 1.3, (up to 4 displays)
Storage: 240GB M.2 SATA SSD
LAN: Dual Gigabit LAN
Wireless: Wifi 802.11ac/b/g/n, Bluetooth 4.2
USB: 6 x 3.0
This slideshow requires JavaScript.
Surprisingly, ZOTAC promises that the VR GO can be upgraded if needed -- likely just memory and storage. It would be easy for a manufacturer to forgo upgradability for the sake of portability, so it is greatly appreciated that users can crack it open. With that said, the stock specs should be more than sufficient for VR. Keep in mind, it can function as a traditional desktop too -- it doesn't have to be worn on your back during operation.
If you are interested in buying the ZOTAC VR GO, pricing and availability is unfortunately not yet known. With that said, the company should reveal those details soon enough.