Windows Update Blocker disables OS updates on demand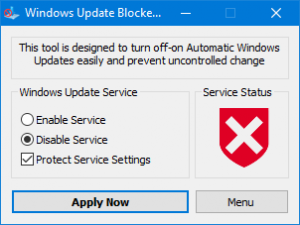 Freeware developer Sordum has unveiled Windows Update Blocker, a free tool for disabling Windows Updates.
At first glance, the program doesn't seem very interesting. Launch it, select "Enable" or "Disable" and click "Apply Now" to make the change. No surprises there.
But wait -- there's also a much less ordinary "Protect Service Settings" option which prevents Windows or other users reversing your settings.
We're not quite sure how the process works -- a little permissions tweakery, probably -- but it's certainly effective. We tried disabling Windows Update, then opened the Windows Update service and found there was no way to stop, start or change its startup type.
SEE ALSO: How to reliably disable Windows 10 updates
Elsewhere, lesser features include a Menu button which gives easy access to Windows' standard update settings.
There's also a simple command line interface which enables changing Windows Update settings from your own scripts.
Windows Update Blocker is a simple and effective tool, but be careful. Disabling Windows Update could mean you miss some vital security updates. And if you protect your settings, be sure make a note that you've used the program and keep a copy to hand, because there's no other easy way to reverse your changes later.
Windows Update Blocker is a free tool for Windows XP and later.