Vivaldi ends the year with a series of tab-related improvements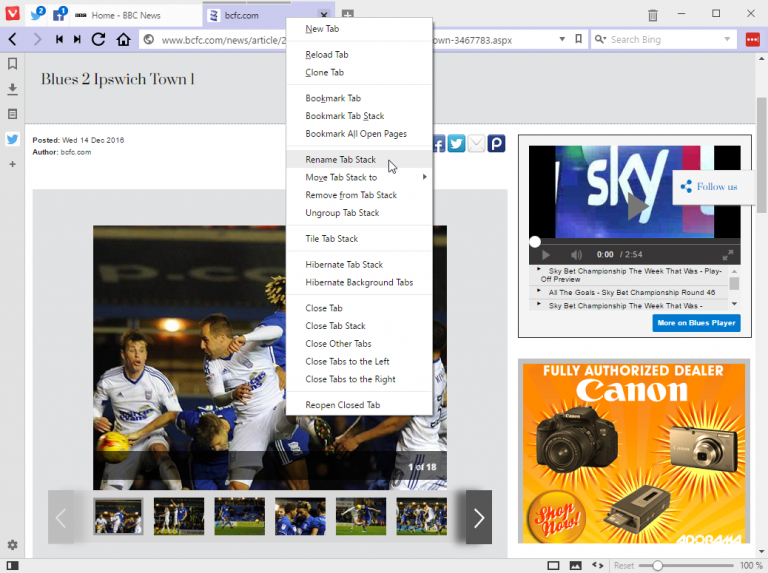 Hot on the heels of Opera's final release of the year comes Vivaldi 1.6, a new version of the world's most flexible web browser from Opera co-founder Jon S von Tetzhner.
Version 1.6 -- available for Mac, Windows and Linux -- debuts three new features, all revolving around the browser's flexible tab management system. The highlight of these is the new tab notification feature.
Tab notifications are used to alert users to the presence of new content in tabs -- both pinned and regular. The obvious use for notifications will be on social media sites, where content is in a constant state of flux and users will quickly see how many posts have appeared since they last checked in.
Vivaldi 1.6 also tweaks other tab features -- now users can assign custom names to tab stacks to help identify them. First, open the Vivaldi menu and choose Tools > Settings > Tabs, then scroll down and tick the box marked "Allow Tab Stack Renaming".
Once done, users can then right-click any tab stack and choose "Rename Tab Stack" to make the change. The name will apply to all tabs in the stack, and deleting the name by double-clicking it (or removing the stack) reverts the tabs to their default names.
The final change adds a new way of selecting multiple tabs quickly -- this improvement will allow users to quickly select all tabs pointing to a particular domain by holding [Ctrl] or [Cmd] and double-clicking one of the tabs.
The new release is also the first since Vivaldi implemented a delta updates mechanism for Windows users -- those upgrading to version 1.6 from 1.5 will see the download size reduced from 38MB to just 8.5MB.
Vivaldi 1.6 is available now as a free download for Windows, Mac and Linux. Users can import data from a variety of browsers, including Opera (old and new versions), Chrome, Edge and Internet Explorer, but not Firefox (a HTML option is available instead).