Santa brought you a Samsung Galaxy S7 or Galaxy S7 edge? Here's what to do first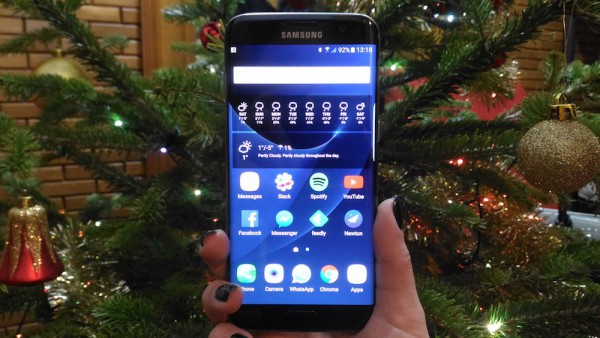 If Santa brought you a Galaxy S7 or Galaxy S7 edge, you are in for a treat. Samsung's flagships are, without question, two of the best high-end smartphones available right now, featuring an amazing camera, a gorgeous display, fantastic performance, impressive battery life, powerful software, a waterproof rating, and a premium design. Impressive, indeed.
To help you get comfortable with your new Galaxy S7 or Galaxy S7 edge, we have prepared this guide with tips on how to get started, set it up and what accessories to buy. So, without further ado, here is what you need to know.
Accessories
The Galaxy S7 and Galaxy S7 edge are a tour de force. Samsung has included lots of features that you will love, like wireless charging. Both devices support it, enabling you to top the battery just by laying it on a charger.
If you do not yet have one, there are lots of compatible wireless chargers on the market. Samsung has an official one, but there are also aftermarket options to consider. I have tested the Choetech Choe Qi with my Galaxy S7 edge (I guess you're not the only one feeling lucky today) and it works just as you'd expect. Oh, and it also offers fast wireless charging, which both the Galaxy S7 and Galaxy S7 edge support, so you can charge the battery even quicker.
In terms of cases, I prefer to stick with something official. If you like a case that also protects the screen, check out Samsung's S-View Flip Cover or S-View Clear Flip Cover. The difference between the two is self-explanatory. If you want a more basic option, take a look at the Clear Protective Cover.
A more interesting option is the Wireless Charging Battery Pack. It's a bit more pricey, but on top of protecting your new smartphone it will also let you charge it when its battery runs out at the flick of a button. It will let you use your Galaxy S7 or Galaxy S7 edge for a really, really long time. The Galaxy S7 model has a 2,700mAh battery inside, while the Galaxy S7 edge version comes with a 3,100mAh unit.
The Setup
The Galaxy S7 and Galaxy S7 edge are easy to configure after you press the power button, but there are a couple of things worth mentioning here. First, I strongly recommend that you set up the fingerprint sensor (or create a PIN or password, if you prefer), because it works great and it is the most convenient way to protect your device, in case you misplace it or don't want someone else to use it.
I would also recommend that you create a Samsung account, if you do not already have one, because it lets you back up things like phone call logs, messages, settings, home screen layout, voice recordings, and more. It also gives you some storage space (15GB) in Samsung's cloud.
Speaking of the cloud, Samsung has teamed up with Microsoft to give you 100GB of OneDrive storage for free. You can redeem the offer by logging in with your Microsoft account -- or creating a new one if you are not a user yet. The extra storage, atop of the basic plan, is good for two years. It does not hurt that OneDrive is also very appealing.
While you are scrolling through the app drawer, you will notice that the order of the apps doesn't really make sense. It's not alphabetical, so you may struggle to find what you are looking for in pinch. Tap the A-Z button to re-order them. Keep in mind that you will have to do this every time you install new apps, as it's not done automatically for some reason. The new apps you install will be added to the last page.
You might also want to disable or turn off any unnecessary apps. Samsung, unfortunately, still bundles bloatware -- some of it is its own. The list differs depending on the market, and it can be quite extensive if you have a carrier unit. If you disable something and want to bring it back, go to Settings, then Applications, and tap on Application manager. Tap on All apps and then select Disabled to only show the ones that are turned off.
Android enthusiasts can go a step further and change the firmware but, and I cannot stress this enough, you have to know what you are doing. Otherwise, play it safe, and stick with the stock firmware on your Galaxy S7 or Galaxy S7 edge. The benefits to doing this are less bloatware (if you are switching from a carrier version to an unbranded one) and faster software updates (some markets get updates sooner than others). Change the firmware at your own risk.
Depending on when your Galaxy S7 or Galaxy S7 edge came out of the factory, there may be a newer version of the software available. To check for updates, head to Settings, scroll all the way down, tap on About and then open Download updates manually. This will initiate a search and let you download and install the latest software.
If you are the sort of user who wants to always run the latest version available, but don't want the update to interrupt what you are doing, you can schedule the software updates to be installed at a certain hour of the day. Keep in mind that if you have this option ticked and also configured your Galaxy S7 or Galaxy S7 edge to require a PIN or password at boot it will not go past that step after installing the update.
If Santa brought you a Galaxy S7 edge, you should take a look at the edge functionality that is available by swiping the left from the right edge of the display. It lets you access some features more quickly, add contacts to the menu, and so on. You can also buy panels from the Galaxy App store, if you find something that you like.
To get a good night's sleep, also configure Do not disturb. In the time-frame of your choosing, your smartphone will mute notification sounds and even calls if you want to. You can also turn it on manually, but I would recommend a schedule for convenience.
When you trigger the notifications panel you get access to five control toggles and if you tap the down button it will expand to give you access to over a dozen. You can customize the order using the Edit button, which I would recommend if you want to have the ones you will use the most show up the first in the list.
Samsung also lets you customize the layout of the homescreen. Long tap on it to get to the launcher's menu. There, you can choose which homescreen is the main one, change their order and the theme, add widgets, pick a different wallpaper and modify the screen grid size. On my Galaxy S7 edge, I chose the four by five grid setting to fit more apps on the homescreen and still have a fair distance between the icons.
The launcher menu is also where you can disable upday, the leftmost homescreen that includes a newsfeed. Chances are, you already have a news app you prefer, so there's no reason to keep it running as well. However, it does give you notifications for breaking news, which is nice.
I cannot talk about the Settings menu without also mentioning Active display. This will always show the time, date and notifications for some apps on the screen. It takes advantage of the low-power consumption of the OLED panel to only light up the necessary pixels, so it doesn't affect battery life all that much.
However, I personally find it useless, as I cannot edit the list of apps for which notifications are displayed, so I have it disabled. If the Android 7.0 Nougat update, which is bound to arrive any day now, changes that, I will turn it back on. It is a bit strange that Samsung has not included that kind of functionality for the Galaxy S7 and Galaxy S7 edge in a more recent update, especially as it was available on the beleaguered Galaxy Note7.
What Else?
Install your favorite apps and enjoy it. It's a terrific smartphone, and I am sure you will love yours just as much as I do mine.
Also, don't forget to drop your comment to share your first-impressions and any tips you think will prove useful to fellow users.