Linksys WRT32X is an AC3200 router for hardcore gamers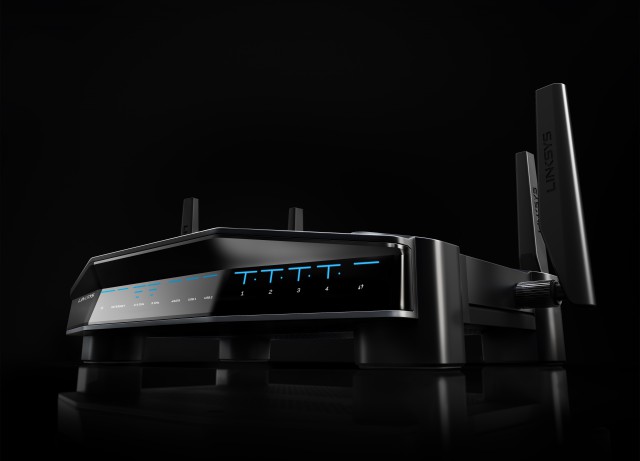 Wireless routers have come a long way in recent years when it comes to transfer speeds, but not in terms of lag, which remains a concern -- for gamers, in particular. To enjoy playing a game online, low latency is needed and over a wireless connection that can sometimes be a problem. It is why some routers include workarounds for users to turn to when they run into issues.
Linksys has come up with a different approach for its new WRT32X AC3200 router, which is meant for "serious online gamers". Its software includes a number of features, part of Rivet Networks' Killer Prioritization Engine, that should help reduce latency and lag when playing games, listening to music, or watching videos online.
"We looked at the router options available to gamers in the market and realized that 'gaming' routers were just standard routers with flashy industrial design or packaging provided as 'gamer bait', but offered no real technical substance or innovation", says Linksys WRT series product manager Vince La Duca. "We knew we already had the best and top of the line hardware for gaming on the market with the WRT series; we just needed the right solution to give gamers the competitive advantage in regards to network optimization. That's when we started talking with Rivet Networks, makers of Killer networking products".
The Killer Prioritization Engine is said to deliver a "fast" and "smooth" gaming experience under high network loads and ensure that game downloads and patches do not affect other devices connected to the router. It is advertised to work with Killer-enabled devices.
Linksys says that Killer Networking is supported on gaming devices from the likes of Alienware, MSI and Razer, so it remains to be seen what sort of effect -- if any -- it has on standard devices, like your self-built gaming desktop or laptop from a different brand.
The Killer Prioritization Engine is basically like the Quality of Service functionality that is available on just about any router, except that it should be usable from the get-go. On other home routers, the feature may not be enabled out of the box, and when it is you are the one who has to configure everything for it to have any effect on your apps' network performance. Another difference is that there is a way to control the router from the Killer Control Center, software which is offered on the client side.
"Internet traffic from the Killer PC is managed to ensure game play is top priority with audio and video from the Killer PC as second and third priority while bulk download, such as large game patches are set to a lower priority so they don't negatively impact other devices in the home who may be surfing the web or enjoying a blazing-fast Netflix video stream", adds Linksys.
Now, let's talk a bit about the router itself. It's got a 1.8GHz dual-core ARM processor, 256MB of flash and 512MB of RAM. There is a built-in 802.11ac Wave 2 Dual-brand 3x3 with Tri-Stream 160 technology radio, and all the five Ethernet ports are Gigabit. There are four antennas as well, which should make it plenty fast for home use and ensure that it offers good wireless coverage. The AC3200 speed is a mix of N600 and AC2600.
Other features worth noting are the eSATA, USB 3.0 and USB 2.0 ports and support for OpenWRT and DD-WRT. The open-source support is nice to have, because it lets you install much more powerful firmwares, that offer access to advanced features.
The WRT32X will be available this spring for $299.99.