Opera 44 Developer starts public testing, offers Touch Bar support alongside security improvements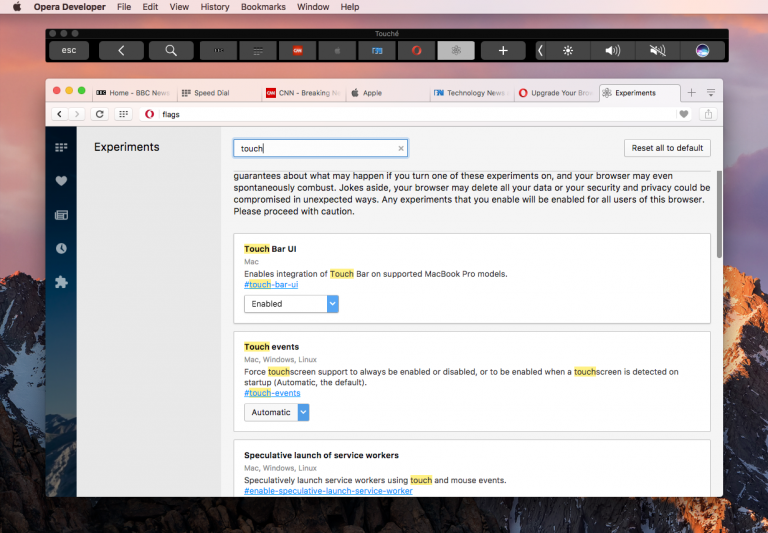 Opera Software's first release of 2017 sees Opera 44.0 Developer made available for Windows, Mac and Linux users. The Developer edition is the Alpha branch of the browser's development cycle.
Version 44 launches with four new developmental features, not all of which are available for preview (but likely to be switched on in subsequent builds over the coming weeks).
The first new feature sees Opera redesign its icons and toolbars for the MacBook Touch Bar. The feature – will can be switched on via opera://flags (search for 'touch bar', then enable 'Touch Bar UI' to test) -- sees Opera replace Apple's default tab screenshots with more eye-catching (and pleasing) icons or colors for each open tab. When the feature is switched on, Mac users without the Touch Bar can emulate the feature using Touché.
The second feature sees Windows users benefit from the potential of more hardware-accelerated video. Opera already utilizes the graphics chip for streamed video, and this new improvement will work with websites that utilize non-streamed videos.
The upshot should be reduced power and CPU consumption combined with better performance, with HD video in particular rendering more smoothly. The feature has been implemented in this initial release.
Two new cross-platform features being introduced concern privacy and security. The first is a new Credential Management API, which allows websites that utilize both password-based and federated (such as Google or Facebook account) sign-ins to store these details in Opera's password manager, speeding up future site visits.
The feature has been ported across from Chrome, which first utilized it in Chrome 51, and again has been switched on in this first Developer release.
The final feature is the only one mentioned that has yet to be enabled -- it will see Opera able to block potentially malware shortcuts from being automatically opened in the browser by third-party applications.
Opera already provides protection against risky downloads; this new feature means that all web links initiated by third-party programs will be subject to a pop-up warning on the part of Opera, giving users time to digest and respond to the request (users can opt to block or allow, plus remember their choice).
Opera 44.0 Developer is available now as a freeware download for Windows, Mac and 64-bit Linux users. Also available are Opera 42, the latest stable release, and Opera 43 Beta. Not all features in Opera 44 Developer may make it to the final release of Opera 44, due early spring.