Vivaldi introduces flexible screenshot tool, universal mute option for tabs

Vivaldi 1.7 has been released for Windows, Mac and Linux. It's the brainchild of Opera co-founder Jon S von Tetzhner, and makes a good claim to be the most customizable web browser out there.
The new release debuts some significant new features, including a fully functional built-in screenshot tool, more flexible options for muting sounds across multiple tabs and a host of other minor tweaks and enhancements.
Vivaldi 1.7's headline new feature is its built-in screenshot tool. It's designed to make it easy for users to grab images of web pages via a new camera button that appears in the Status bar.
Users click the button to reveal options for capturing a full page (including content not currently visible), or a selected part of the screen, which can be either part of a web page or the Vivaldi user interface.
Images are saved by default in PNG format to a Vivaldi Captures folder inside the user's Pictures folder. Images can be captured as PNG, JPG or to the clipboard for pasting into another application or message.
A related addition to Vivaldi 1.7 sees users able to capture selected portions of the screen to notes stored in the Notes panel – a new target-like button appears next to the existing camera button to provide this functionality.
Most web browsers have now implemented controls for identifying and muting sounds coming from individual tabs, but Vivaldi 1.7 goes further in giving users the ability to mute all sound ("mute all tabs" via Quick Commands) or mute all sound from background tabs only ("mute other tabs").
Users can map keyboard shortcuts to these controls via Settings > Keyboard > Tab, where they can also map keyboard shortcuts to the new screenshot tool.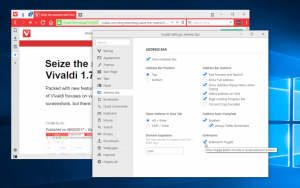 Other new features include "configurable lazy loading for pinned tabs". Lazy loading allows users to specify whether or not to load tab content on startup. By ticking "Lazy Load Restored Tabs" under Settings > Startup, a tab's content is only loaded when it's selected to speed up startup. Now users gain an additional option -- "Always Load Pinned Tabs" -- that can be unticked to apply lazy loading to tabbed content too.
Elsewhere, Vivaldi now uses native notifications in macOS Sierra, adds the StartPage private search engine to its list of supported providers and introduces configurable top-level domain expansion (via Settings > Address Bar). Users will also gain additional warnings when insecure HTTP websites ask for passwords.
Finally, users can now toggle the visibility of extensions in the Address Bar – once enabled via Settings > Address Bar > Extensions Toggle, just click the vertical ellipsis button on the right of the Address Bar to show or hide extensions.
One feature that's had to be held back for additional testing is a new History panel, providing users with a convenient way to browse recently visited content. This should hopefully appear in the next release.
Vivaldi 1.7 is available now as a free download for Windows, Mac and Linux. Users can import data from a variety of browsers, including Opera (old and new versions), Chrome, Edge, Internet Explorer and -- via HTML export -- Firefox.